Explore one of Greece's most important archaeological sites on a private 5-hour trip to ancient Messene from Costa Navarino. Journey to the well-preserved Greek city, spread over an open hillside, and explore the ruins independently, seeing the city gate, theater, sanctuaries, stadium, and more. Plus, visit the museum and nearby Mavromati village, and break for coffee and lunch (both own expense). Private transport, plus hotel pickup and drop-off included. Entrance fees not included.
Highlights
Private 5-hour ancient Messene tour from Costa Navarino
Explore the ruined Greek city of Messene, dating from the 3rd and 4th century BC
See the city gate, theater, tombs, sanctuaries, and column-lined stadium
Visit the archaeological museum and village of Mavromati, home to an ancient spring
Break for coffee (own expense) and lunch (own expense) at a local taverna
Private air-conditioned transport, including hotel pickup and drop-off
Price per group, based on a maximum of two people
What You Can Expect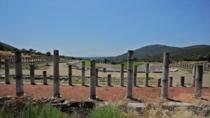 Start your private tour with a hotel pickup from Costa Navarino, and travel northwest through the Peloponnese countryside to ancient Messene.

On route, hear about this UNESCO-listed archaeological site, where the ruins of an ancient Greek city developed by the Romans cover the slopes and valley around Mount Ithome. Learn about the city's foundation in 369 BC and its tangled history under a succession of rulers.

After roughly 1.5 hours on the road, arrive at the village of Mauromati, situated on the hillside above the site. Visit the village spring, known in ancient times as Klepsydra, and hear the age-old Greek legends related to Zeus that swirl around this natural water source.

During your trip, enjoy a break for coffee (own expense) at a coffee shop and set off to explore the archaeological complex (own expense). Enter the city through the massive broken stones of the Arcadian gate, and imagine how it might have felt to have passed through it as a Messenian soldier on the way to battle.

Walk along the same paved roads as Epaminondas, the great general who founded the city, and branch out to explore the relics independently. See highlights like the city walls, theater, houses, sanctuaries, and tombs, and admire the well-preserved stadium, bordered by lines of columns.

Afterward, feel free to ask your guide any questions before continuing to the small Archaeological Museum. View some of the artifacts unearthed at the site, and then, if you wish, visit a taverna for lunch or snacks (own expense) and to discuss what you've seen.

From here, drive back to Costa Navarino, where your trip ends with a hotel drop-off.