Enjoy the best of Cairo on this private day trip tour of the city from Hurghada that includes round-trip flights and a chance to feel like you're traveling back in time. Head to the capital city in the early morning, where you'll meet your Egpytologist and venture by private minivan into the ancient relics of this destination. Explore the Giza Pyramids, see the iconic Sphinx, wander the halls of the Egyptian Museum and sample traditional fare at a typical Egyptian lunch (opt for American fare with a visit to TGI Friday's). Once you've had your fill of food and history, head back to Hurghada in the early evening having experienced the best of Cairo with the help of your expert guide.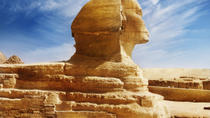 Kick off your private Cairo day trip from Hurghada with round-trip flights with an early morning pickup from your Hurghada hotel. Enjoy the comfort and luxury of private minivan transport to Hurghada International Airport, where you'll embark on a 1-hour flight to Cairo and meet your expert guide for a truly memorable tour of the city's most famous highlights. Stay hydrated as you tour the town with complimentary mineral water.

Take in the sites, sounds and scents of Cairo's bustling streets as you make your way to the edge of the city where you'll explore the Giza pyramids and Sphinx with your friendly, knowledgeable guide.

Upon arrival, you'll learn about the iconic Sphinx, a human-headed lion that is quite possibly the most famous symbol in all of Egypt. Your guide will share local legends and ancient folklore as you get an up close look at this incredible site.

Next, make your way to Cheops, Khafre and Menkaure—three of Giza's most well-known pyramids. Learn how these massive tombs built in 2550 BC helped shepherd pharaohs into the afterlife. Check out the maze of ruins known as Valley Temple of Khafre, and learn more about how this destination once served as the entrance to the pyramids.

After exploring, enjoy lunch with a view of the Nile at a vast buffet, local Egyptian restaurant or TGI Friday's. Complete your private tour with a stop at the Egyptian Museum, where you'll wander halls filled with more than 250,000 ancient artifacts dating back more than 3,500 years. 

You'll depart the Cairo Airport and make your way back to Hurghada, where you'll be delivered to your hotel after a memorable day of history, culture and adventure.