No reviews, be the first!
Address:

Imogiri Hill, Yogyakarta, Indonesia 55782

Hours:

Main tomb: 9am-­12pm on Mondays / 1pm­-4pm on Fridays
Perched atop a hill not far from Yogyakarta, Imogiri Kings Cemetery is the official burial place of the royal descendents from Yogyakarta and Surakarta. Built in the mid-­17th century, this grand cemetery consists of three main courtyards: Prabayasa, Kemandungan, and Srimanganti.
The graveyard is a peaceful spot with some beautiful views. The main tomb houses many of the kings of the Mataram Kingdom, from Sultan Hamengku Buwono I to Hamengku Buwono IX. Some of the rulers' immediate family members are also buried here, and the smaller courtyards are where the princes were laid to rest.In order to reach the tomb where the kings reside, visitors must climb hundreds of steps and, once inside, must adopt the traditional Javanese dress, which can be hired for a modest fee.
Practical Info
To reach Imogiri Kings Cemetery from downtown Yogyakarta, catch the Trans Jogja to Giwangan bus station, then change for a bus to Imogiri. The main king's tomb can only be visited on Monday mornings and Friday afternoons. The cemetery is closed during Ramadan.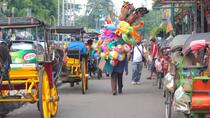 This would be your chance to experience a tour that is also healthy! Yes, you will be provided a bike to ride on part of this journey, as you explore the city ... Read more
Location: Yogyakarta City, Indonesia
Duration: 4 hours (approx.)