No reviews, be the first!
Address:

Grand Loop Road, Yellowstone National Park, Wyoming, USA

Admission:

$30 entrance fee to Yellowstone National Park
Even though Mammoth Hot Springs are outside of Yellowstone's caldera valley, the sheer amount of volcanic energy has spilled through porous, subterranean passageways to Yellowstone's northwestern corner. Here, at Mammoth Hot Springs, the geothermally-heated water emerges through cracks and fissures, and unlike the deep, hot spring pools found elsewhere inside of the park, the formations here are terraced travertine and dripping in mineral formations. When visiting Mammoth Hot Springs in Yellowstone, take a stroll on the network of boardwalks that weaves through the steam filled landscape. There are dozens of individually named formations in the Mammoth Hot Springs complex, and despite the exceptionally high temperature of the pools, it's common to find wildlife such as elk or deer walking casually amidst the steam. In winter, the sight of snow mixing in with the steam and the white of the calcium carbonate, creates a scene that looks like the surface of a completely other planet. While it doesn't take long to visit the hot springs—as the boardwalks are relatively short—the bubbling formations and yellowish terraces are a highlight of visiting the park.
Practical Info
The Mammoth Hot Springs are located in the northwestern corner of Yellowstone National Park, approximately five minutes from the Montana border, and a half-mile from Mammoth village. The terraces are divided into two different areas, with the lower terrace having the greatest amount of steaming mineral formations.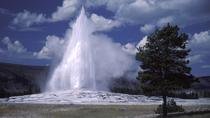 2 Reviews
Explore both the Upper and Lower Loop of Yellowstone National Park in two days. This is one of our most popular tours of Yellowstone; both loops in two days ... Read more
Location: Jackson, Wyoming
Duration: 2 days (approx.)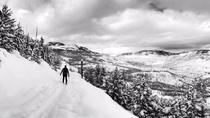 Winter is a magical time in Yellowstone. The crowds are gone and snow lays upon the park's great landscape. Cross-country skiing and snowshoeing are the best ... Read more
Location: Gardiner, Montana
Duration: Flexible