Santa Croce Tours
Santa Croce is one of the six districts of Venice, Italy, and it's the only district where cars are allowed to drive. It is connected to the mainland by the Ponte della Libertà bridge, which stretches across the lagoon. The smallest of Venice's districts, Santa Croce is a mix of chaos at Piazzale Roma, where there is a big bus station and ferry hub, and quiet charm from Campo San Giacomo dell'Orio, one of the city's prettiest squares. Visitors can also see the historic church San Giacomo dell'Orio here.
Other interesting sights in the area include Ca' Pesaro, which is a Baroque palace that is now home to Venice's Museum of Modern Art with pieces from the 19th century to today. Along the Grand Canal is the Natural History Museum at Fodaco dei Turchi and a church dedicated to Sant'Eustachio called San Stae. Palazzo Mocenigo is a palace that is open to the public and has historic costumes on display. With fewer big tourist sights, this neighborhood is a great place to get a feel for the more local side of Venice.
Practical Info
Santa Croce is located in the western section of Venice and is bordered by the Grand Canal and the districts of San Polo and Dorsoduro. It can be accessed from Piazzale Roma.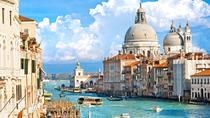 Be part of the waterways dream that reflect elegant palaces with Byzantine, Gothic and Renaissance façades, small and delicate bridges, magnificent ... Read more
Location: Florence, Italy
Duration: 13 hours (approx.)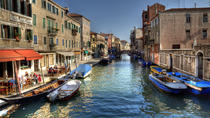 121 Reviews
Explore some of the smaller, secret Venetian canals by motorboat on a 2-hour cruise, and discover the neighborhoods of Cannaregio, the Jewish Ghetto and ... Read more
Location: Venice, Italy
Duration: 2 hours (approx.)