No reviews, be the first!
Address:

Dubai, United Arab Emirates

Admission:

Adult 25 dhrms, Child 15 dhrms
The Sharjah Aquarium is a vast aquarium sprawled across two levels. It's home to a huge variety of underwater species native to the waters around the UAE. Here you can discover everything from the largest marine life to the smallest of ocean creatures, all without getting your feet wet.

With over 250 species and a number of lagoon, coral reef, and mangrove habitats recreated, there's certainly plenty to see here. From tiny tropical fish, jellyfish, and seahorses, to the moray eels, eagle rays, and reef sharks, it's wise to dedicate a good amount of time to wander around and take it all in.

Practical Info
The Sharjah Aquarium is located in the Al Khan area of Sharjah. It's open from 8am to 8pm, Saturdays to Thursdays and 4pm to 10pm on Friday evenings. The aquarium is closed on Sundays.

Sharjah Aquarium first opened its doors on June 16, 2008. Explore the fascinating hidden world of the deep sea with its amazing creatures. Enjoy a close-up ... Read more
Location: Sharjah, United Arab Emirates
Duration: 1 day (approx.)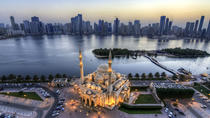 Discover Sharjah Museums in one day the legacy of arts, heritage and culture.
Location: Sharjah, United Arab Emirates
Duration: 5 hours (approx.)