Lake Ontario Tours
Bordered by the U.S. state or New York and the Canadian province of Ontario, Lake Ontario is the smallest of the collection of lakes in the area called the Great Lakes. Don't let that deceive you though, because Lake Ontario with its 7,340 square miles surface area and five big islands actually holds the title of the 14th largest lake in the world. A 900-mile long road called theWaterfront Trail is used to connect the cities and villages that line the Canadian shores of Lake Ontario. The most well-known of these cities is of course Toronto, Canada's most populous city and home to tourist attractions such as the Hockey Hall of Fame, Rogers Center, the Royal Ontario Museum and the iconic CN Tower.
Niagara-on-the-Lake borders the more famous Niagara Falls, but actually has quite a bit to offer by itself, such as the many wineries and restaurants along the lake or two historical military forts. Those looking for a more quiet and less touristy waterfall, should check out the very photogenic Ball's Falls emptying into a circular pool just near Jordan. Head to the sandy beaches and the bright white lighthouse of Presque'ile Provincial Park near Brighton, hike around the dramatic sandstone cliffs called the Scarborough Bluffs or explore the 1,000 Islands, where Lake Ontario empties into the St. Lawrence River and has formed a myriad of little islands.
Practical Info
Lake Ontario is equally divided between Canada and the United States. Explore the Canadian side via the Waterfront Trail, a series of interconnected trails along the shore.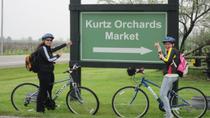 43 Reviews
Enjoy beautiful scenery, great bike trails and Niagara-on-the-Lake's finest wines on this biking and wine-tasting tour. Niagara-on-the-Lake is an incredibly ... Read more
Location: Niagara Falls, Canada
Duration: Flexible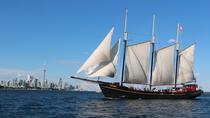 12 Reviews
This is your chance to experience Toronto's only tall ship boat cruise! Sail aboard the 'Tall Ship Kajama,' a traditional 165-foot, 3-masted schooner boat, and ... Read more
Location: Toronto, Canada
Duration: 2 hours (approx.)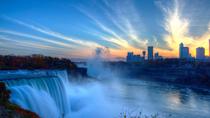 4 Reviews
On this 8-hour tour, visit Niagara-on-the-Lake and Niagara Falls, and enjoy a ride on the Hornblower Niagara Cruise. This tour is geared for travelers who ... Read more
Location: Toronto, Canada
Duration: 8 hours (approx.)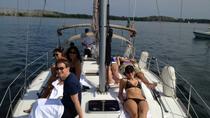 3 Reviews
Sail along the Toronto waterfront on a luxurious 41-foot (12-meter) yacht with a small group (maximum 10 people). Take the helm and learn new skills or ... Read more
Location: Toronto, Canada
Duration: 3 hours (approx.)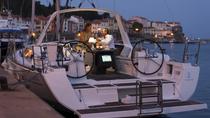 Perfect for 'date night' or a fun evening out with friends or family, this Toronto cruise begins Fridays at 6pm and sets sail through the Toronto Island ... Read more
Location: Toronto, Canada
Duration: 3 hours (approx.)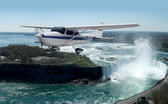 Enjoy a spectacular view of Niagara Falls from above on this 45-minute air tour. Save the drive to Toronto and fly from Niagara District Airport to Toronto ... Read more
Location: Niagara Falls, Canada
Duration: 45 minutes (approx.)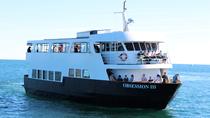 Experience Toronto's vibrant harbourfront and stunning views of Toronto's beautiful skyline. If you're looking for delicious food and fabulous entertainment, ... Read more
Location: Toronto, Canada
Duration: 3 hours (approx.)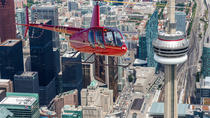 29 Reviews
Experience Toronto from the sky on a helicopter tour over the city! As you soar through the air, look down on the skyscrapers, CN Tower, the waterfront, Fort ... Read more
Location: Toronto, Canada
Duration: 7 minutes (approx.)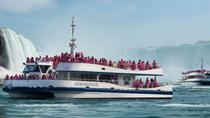 2 Reviews
Visit Niagara Falls and Niagara-on-the-Lake with a 9-hour day-trip from Toronto. At the falls, enjoy a ride aboard the Hornblower Niagara Cruise, where you'll ... Read more
Location: Toronto, Canada
Duration: 9 hours (approx.)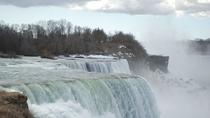 9 Reviews
Enjoy a fantastic, custom, private, full day trip/tour from Toronto, Canada to wondrous Niagara Falls, Canada in a private, casually upscale vehicle.  Downtown ... Read more
Location: Toronto, Canada
Duration: Flexible