Frequently referred to as "the Lighthouse of the Pacific," Vanuatu's Mt Yasur has been continuously erupting for what's believed to be 800 years. It's said that the light from its lava‐tinged summit was noticed by Captain Cook, who then decided to explore the islands while mapping the South Pacific.
Today, this 1,184‐foot crater on the plains of Tanna Island is not only one of Vanuatu's most popular attractions, but one of the world's best opportunities to witness an active volcano. Standing atop the summit rim or the visitor viewing area, feel the earth as it literally quakes and rumbles beneath your feet. Watch the smoke and ash it rises and swirls up into the sky, or follow the path of magma-covered rocks as the spew and spout from below. Aside from actively viewing the volcano, reaching Mt Yasur is an adventure in itself that's all a part of the experience, as it involves driving for up to two hours on rugged, off‐road terrain, or taking a scenic flight over the peak before enduring the drive and the hike. When visiting at dusk, watch as clusters of molten lava send streaks across the sky, which glows a vibrant and eerie orange as it lights up the Vanuatu sky.
Practical Info
There are times when Mt. Yasur is closed to visitors due to elevated volcanic activity. Rated on a scale of 1‐4, if the warning level is 3 or greater, then visits to the volcano are halted. On average, the drive required to reach the volcano is between 1.5 and 2 hours, and the climb to the summit is 30 minutes of steep, uphill hiking.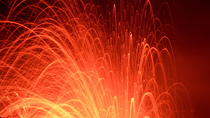 Experience the best Tanna has to offer in 4 days - the active, accessible Mount Yasur volcano, traditional Kastom villages, the lush Middle Bush area and get ... Read more
Location: Lenakel, Vanuatu
Duration: 4 days (approx.)