No reviews, be the first!
Address:

Rue Commandant Guichard, St-Tropez, Provence-Alpes-Côte d'Azur 83990, France

Hours:

Saturday at 6:30 pm and Sunday at 10:30 am
St Tropez Church (Eglise de St Tropez) Tours
The Notre-Dame-de-l'Assomption Church in St-Tropez is in the Old Town of Saint-Tropez and is now considered to be one of the city's emblems, with the ocher-colored steeple and bell tower being visible from miles around. Built in the Italian Baroque style, the church has a white limestone façade with distinct yellow and red accent hues that were selected to contrast with the blue of the sky and the sea. Construction took many years, ending in 1784. In 1820, the Archbishop of Aix-en-Provence Pierre-Ferdinand Bausset-Roquefort consecrated the church. Notre-Dame-de-l'Assomption underwent extensive renovations and repair works in 1990, and was made a historic monument shortly after. Inside the church, visitors can see the bust of Saint Tropez (patron saint of sailors and patron saint of St-Tropez) as well as the bust of Saint Pierre (patron saint of fisherman and masons). The church is home to many events during the year, including the bravade (a religious and military festival held in May) and a renowned nativity scene in December and January.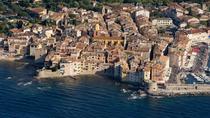 59 Reviews
If you're looking to spend a day in St Tropez, there's no more relaxing way to start your journey than on a boat ride from Cannes. Enjoy the beauty of the ... Read more
Location: Cannes, France
Duration: Flexible