Museum of Socialist Art Tours
The Museum of Socialist Art in Sofia focuses on the art and history of Bulgaria during the communist period from 1944 to 1989. The museum was opened in September 2011 and includes a statue park and indoor exhibition space. More than 70 statues and busts of former socialist leaders, including a giant statue of Lenin that once stood in the center of the city, have found a new home in the park. The statues generally include only the title, creator, and in some cases the town where the statue came from. There is also a red star that once topped the Socialist Party headquarters.
The gallery has art on display that focuses on the socialist period. There are 60 paintings and 25 easel representations. Some of the art depicts life during World War II while other pieces show socialism in the country, including some scenes of happy life under party rule. There is also a video hall for screening documentary films and newsreels from the communist times.
Practical Info
The Museum of Socialist Art is located at 7 Luchezar Stanchev Street.
The Museum of Socialist Art opened on 19 September, 2011. It presents works from the period of Socialist rule in Bulgaria (1944–1989). Enjoy Admission to the ... Read more
Location: Sofia, Bulgaria
Duration: 1 to 3 hrs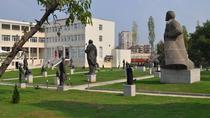 Explore Bulgaria's Socialist past with a 2-hour guided tour of the Museum of Socialist Art in the heart of Sofia. Through the museum's collection of ... Read more
Location: Sofia, Bulgaria
Duration: 2 hours (approx.)