Unhyeongung Palace Tours
Once the royal residence of Prince Regent Daewon-gun, this historic palace is now a public museum that draws locals and travelers to its ornate halls and impressive gates. Visitors will find a network of galleries inside the palace where mannequins dressed in traditional clothing pay homage to the nation's colorful past. The Morakdang Hall, the palace's largest building, was once a women's residence. Visitors will find a typical Korean kitchen here and may even catch a contemporary wedding ceremony, since the space is a popular spot among locals exchanging vows. And while these are certainly lovely to see, lucky travelers who visit Unhyeongung in the spring or fall have the opportunity to witness a royal wedding reenactment. The ceremony is an exact reenactment of King Gojong and Empress Myeongseong's wedding and showcases traditional royal fashion and costumes, which are sure impress.
Practical Info
The palace is located at 114-10 Unni-dong in the Jongno-gu section of Seoul. Admission is free.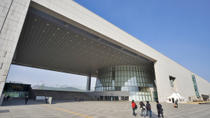 2 Reviews
Dive into Korean history with an expert guide on this half-day coach tour of Seoul. See ancient relics along with calligraphy, painting, ceramics, sculpture ... Read more
Location: Seoul, South Korea
Duration: 4 hours 30 minutes (approx.)