No reviews, be the first!
Address:

Efes Harabeleri, Selcuk, Izmir Province, Turkey 35920, Turkey
Isa Bey Mosque Tours
Isa Bey Mosque was built in 1375 near the ancient city of Ephesus in what is today Selcuk, Turkey. Parts of the mosque were built using stones and columns from the ruins of Ephesus and the Temple of Artemis. It was designed asymmetrically instead of a more traditional symmetric layout and includes a large courtyard. The mosque uses a Selcuk style of architecture rather than the Ottoman style that was used more often in later years. 
Visitors can admire the facade on the western side which is covered in marble and carved with geometric designs and calligraphy inscriptions. You can all see the brick minaret that has survived over the centuries on the north side of the mosque and two domes in the center. The mosque sits below the citadel near the Basilica of St. John. From the mosque, you can look up at the impressive ruins of the citadel and the basilica. The view from the hill where the basilica sits gives an impressive perspective of the mosque as well.
Practical Info
Isa Bey Mosque is located on Atatürk Mh and is a 10-minute walk from the Selcuk main train station.  Entrance is free. Certain areas are used for prayer, but there is also an area for visitors.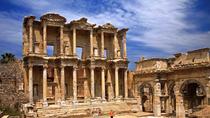 2 Reviews
If you are visiting Istanbul and have limited time to explore the rest of Turkey, then this tour is for you!  Don't miss the opportunity to visit Ephesus, one ... Read more
Location: Istanbul, Turkey
Duration: 1 day (approx.)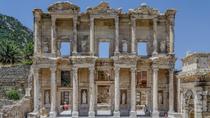 17 Reviews
There are many ways of touring in Ephesus and this tour is for the ones who are deeply interested in archaeology and history lovers. You will not only visit ... Read more
Location: Kuşadası, Turkey
Duration: 1 day (approx.)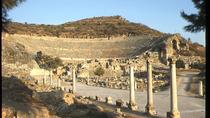 1 Review
The Selcuk area of Turkey is the location of some amazing ancient ruins and sites. The history dates back to B.C. times and the area used to be one of the most ... Read more
Location: Kusadasi, Turkey
Duration: 7 hours (approx.)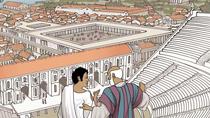 1 Review
Visits to ancient city of Ephesus, Isabey Mosque,House of Mother Mary and Artemis Temple.
Location: Izmir, Turkey
Duration: 8 hours (approx.)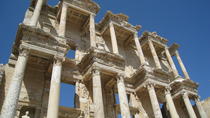 3 Reviews
Step back thousands of years on this small-group guided tour of Ephesus from Selcuk. Start off in Selcuk, exploring the many ancient archeological sites, and ... Read more
Location: Selçuk, Turkey
Duration: 1 day (approx.)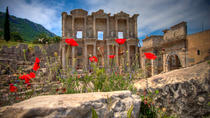 Discover Ephesus with a small group tour of locals. The tour will visit the Ephesus Ancient City, House of Virgin Mary, Temple of Artemis, Isabey Mosque. A ... Read more
Location: Selçuk, Turkey
Duration: 7 hours (approx.)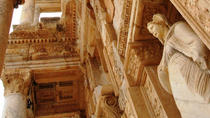 Discover Ephesus with a small group tour of local sights. The tour includes visit to the Ephesus Ancient City, House of Virgin Mary, Temple of Artemis, and ... Read more
Location: Izmir, Turkey
Duration: 9 hours (approx.)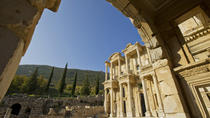 Discover Ephesus with the small group tours of locals. The tour is included visit to the Ephesus Ancient City, House of Virgin Mary, Temple of Artemis, Isabey ... Read more
Location: Kusadasi, Turkey
Duration: 7 hours (approx.)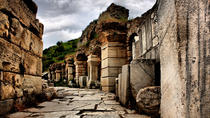 2 Reviews
Would you like visit the amazing Ephesus within one day ? This comprehensive package allows you to visit the Ephesus ancient site in one day with domestic ... Read more
Location: İstanbul, Turkey
Duration: 14 hours (approx.)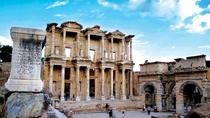 Discover the outstanding ruins of Ephesus and the House of the Virgin Mary on this day trip. Visit the Temple of Artemis, one of the Seven Wonders of the ... Read more
Location: Kusadasi, Turkey
Duration: 8 hours (approx.)