While Seattle has much to offer visitors on land, there are many great experiences to be had on water, as well. Along with being a top whale-watching destination, Seattle has the country's largest ferry system, glacial lakes offering aquatic recreation, scenic cruises and more. To help you add some offshore fun to your Seattle itinerary, here are the best ways to get on the water in Seattle.
1. Go whale watching
Seattle is a popular destination for whale-watching, as the city makes traveling to the nearby San Juan Islands easy. Located in the Puget Sound, the San Juan Islands are often referred to as the "jewels" of the Pacific Northwest, their waters plentiful with salmon (and the whales that eat them). While gray whales inhabit these waters from early March through mid-May, mid-May through late September is a great time to spot orcas and minkes. If you're looking to spot humpbacks, October through November is prime time. Other animal sightings common in this area include sea lions, seals, porpoises, otters, bald eagles and seabirds.

2. Ride the Washington state ferries
Fun fact: Washington State Ferries is the largest ferry system in the country. It's also a great way to get on the water in Seattle and experience the city the way locals do. One great day trip is the quick 35-minute ride from Seattle's Colman Dock/Pier 52 to Bainbridge Island. While the island itself is pleasant, full of boutiques, art galleries, parks, wineries and a scenic Waterfront Trail, the boat ride itself allows you to take in the Seattle skyline from afar while feeling the cool Puget Sound breeze.

3. Explore Green Lake Park
One of Seattle's most popular parks, Green Lake Park allows you to bike, run, bird-watch, skate, play sports, picnic and even gets you on the water. The highlight of the green space is the 259-acres (105-hectare) Green Lake, a glacial lake offering recreational activities like paddle boating, fishing (mainly rainbow trout), swimming, boating and more. Around the lake, visitors can enjoy a scenic 2.8-mile (4.5-kilometer) recreational path.

4. Kayak at Alki Beach Park
Locals love Alki Beach Park for its beach resort vibe, with public art, ice cream shops, nautically-themed eateries and surf shops littering the area as well as wide sidewalks for joggers and skaters. From Alki Beach visitors can also take in expansive views of the downtown Seattle skyline—especially at night when the lights are twinkling and you can hear the gentle ebb and flow of the waves—Puget Sound and Olympic Mountains. That being said, it's not all about land offerings at Alki Beach Park, as the sandy spot also has a boat launch and is a popular spot for kayaking. Traverse gentle waves and follow the shoreline to change up your skyline viewpoint, and watch for seals, bald eagles and sometimes even whales.

5. Cruise the Ballard Locks
The scenic Ballard Locks connects Puget Sound, Lake Union, and Lake Washington. When experienced aboard a cruise, Ballard Locks awards panoramic views of the Seattle skyline and surrounding mountains, and also introduces you to Seattle's famous houseboat community (you'll recognize it from the film Sleepless in Seattle). A cruise on the Ballard Locks is an interesting way to learn about Seattle's complex locks system and a great opportunity for some beautiful landscape photos.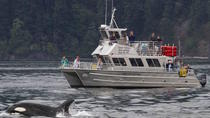 3 Reviews
No ferry required. Small group whale watching tours on the fastest boats in the region with guaranteed whales. See whales or come again for free.
Location: Seattle, Washington
Duration: 3 hours (approx.)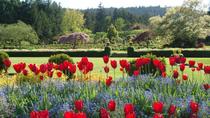 48 Reviews
Experience Victoria's world-class Butchart Gardens and other city highlights on this full-day tour from Seattle. Take a relaxing, scenic ferry ride ... Read more
Location: Seattle, Washington
Duration: 1 day (approx.)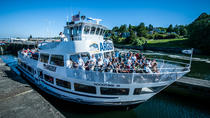 207 Reviews
Take in the spectacular views and experience the transition from salt to fresh water on a Locks Cruise! This fully narrated tour provides you with knowledge, ... Read more
Location: Seattle, Washington
Duration: 2 hours 30 minutes (approx.)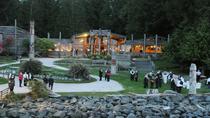 115 Reviews
Myth and magic come to life at Tillicum Village, located 8 miles from Seattle's waterfront on Blake Island State Park. Here, you have the opportunity to learn ... Read more
Location: Seattle, Washington
Duration: 4 hours (approx.)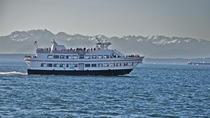 69 Reviews
Enjoy a narrated cruise on Elliot Bay and Seattle Harbor, as well as spectacular views of the Seattle skyline and panoramic mountain ranges.
Location: Seattle, Washington
Duration: 60 minutes (approx.)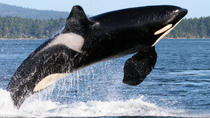 29 Reviews
The best orca whale watching is off San Juan Island, near Seattle. The San Juan Islands are considered the "jewels" of the Pacific Northwest, located ... Read more
Location: Friday Harbor, Washington
Duration: 4 hours (approx.)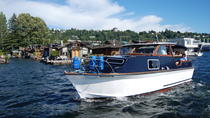 36 Reviews
Cruise Lake Union and enjoy the sights and sounds on this 2-hour cocktail cruise. Watch seaplane take-offs and landings up close and see the iconic Space ... Read more
Location: Seattle, Washington
Duration: 2 hours (approx.)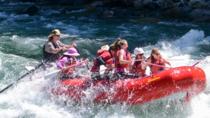 The Skagit brings the wonder of nature and a wild flowing river to the fingertips of our guests. This river is extraordinarily special and has a mystical ... Read more
Location: Marblemount, Washington
Duration: 2 hours 30 minutes (approx.)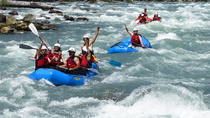 YES! Continuous action packed whitewater glowing with minerals from high elevation runoff from Glacier Peak and the rugged North Cascades. A high mountain ... Read more
Location: Darrington, Iowa
Duration: 4 hours (approx.)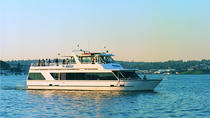 37 Reviews
From picturesque houseboat districts to panoramic views, experience the best of Seattle two different ways--Wine Tasting on Saturday or Seattle ... Read more
Location: Seattle, Washington
Duration: 90 minutes (approx.)