Blake Island State Park Tours
Almost completely wild, Blake Island State Park is made up of thickly wooded trails, a fascinating underwater park as well as the typical flora and fauna of the Pacific Northwest. According to one of many legends, Chief Seattle of the Suquamish Indian tribe, after whom Seattle was named, was born on this island. Definitely true is that the island was used as a camping ground by the tribe and it was named after George Smith Blake, an officer of the United States Coast Survey. The Indian history can be explored in Tillicum Village, where traditional dances, dinners and cultural experiences are offered.
While heavily logged in the early 19th century, the Blake Island is now once again covered in thick cedar, fir, maple and spruce forests with cherry trees, foxglove and thistle adding some dots of color in the right season. Not only deer, raccoon, otters, mink, and an army of squirrels and chipmunks have made the island their home, but there's also a wide variety of birds to be observed. In the water, especially the playful seals, colorful sea stars and fast crabs draw the eye and while it isn't allowed to collect any shells or driftwood on the beaches, the artificial beach glass is fair game for all the beachcombing addicts out there. Kayaking, scuba diving, crabbing and shell fishing are also popular activities in the waters surrounding the island, but those looking to stay on solid ground won't be disappointed either. Apart from the pretty beaches and hiking trails, the island is famous for the stunning views of the Olympic Mountains and the Seattle skyline.
Practical Info
Blake Island is located in the middle of Puget Sound, about 8 miles from downtown Seattle. It can only be reached by tour boat or private boat and is open year round. Opening hours of the park are 6:30am to dusk in summer and 8am to dusk in the winter months, although overnight camping and mooring is possible.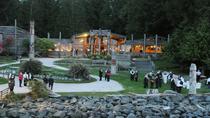 118 Reviews
Myth and magic come to life on the Tillicum Excursion to Blake Island State Park, located 8 miles from Seattle's waterfront. Here, you have the opportunity to ... Read more
Location: Seattle, Washington
Duration: 4 hours (approx.)