Red Beach Tours
Most of Santorini's pocket-sized beaches are made of dark volcanic sand and pebbles set against black, austere cliffs, but perhaps its most unusual beach is near the Minoan ruins at Akrotíri on the south coast. Aptly named Red Beach ('Kokkini Ammos' in Greek) for its blood-red sand and gently crumbling burnt-umber cliffs, the crescent of beach forms a bizarre Martian landscape of red and black lava boulders scattered over grainy red and black sand. Rocks thrown up by ancient volcanic activity lurk just offshore in the calm bay, forming perfect platforms for sun worshippers, and the crystal-clear waters are paradise for snorkelers. 
Open-topped wooden boats, known as kaiks, trundle backwards and forwards between Red Beach and Akrotíri disgorging a constant stream of visitors. Sun loungers and cheery blue-and-white striped parasols are available for hire and there is a low-key kantina near the car park in which to buy essentials such as water and snacks; a couple of stalls sometime appear too, offering locally made jewelry and refreshments. 
Practical Info
Ferries run to Red Beach from Akrotiri, Kamári or the party beach of Períssa; otherwise it is a 10-minute uphill walk and then a scramble across rocks to get down to the beach from the car park. Wear decent footwear when walking on the sand as it gets very hot.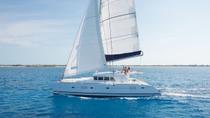 152 Reviews
Cruise around the postcard-perfect island of Santorini on this 5-hour, luxury catamaran tour. Choose from a daytime or sunset cruise, then take in stunning ... Read more
Location: Santorini, Greece
Duration: 5 hours (approx.)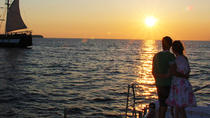 85 Reviews
Enjoy a perfect sailing Sunset tour in the magnificent island of Santorini on board our catamaran. The catamaran sails to the most amazing sights of Santorini ... Read more
Location: Oia, Greece
Duration: 5 hours (approx.)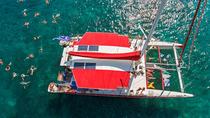 67 Reviews
Enjoy a perfect sailing 5-hour tour from the magnificent island of Santorini onboard the catamaran, sailing to the most amazing sights of Santorini such as the ... Read more
Location: Santorini, Greece
Duration: 5 hours (approx.)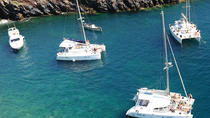 25 Reviews
Santorini is one of the most spectacular destinations worldwide. The unique beauty is both cherished and respected and that is what you will get to experience ... Read more
Location: Thera, Greece
Duration: 5 hours (approx.)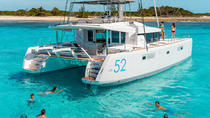 25 Reviews
Explore Santorini's volcanic landscape by sea on this 5-hour sailing trip aboard a new luxury catamaran. With its sleek, diamond-like design and ... Read more
Location: Thera, Greece
Duration: 5 hours (approx.)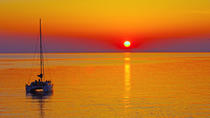 68 Reviews
Perfect Luxury Sailing experience in the magnificent island of Santorini with an amazing catamaran. Sailing in luxury and style on the biggest Lagoon Catamaran ... Read more
Location: Oia, Greece
Duration: 5 hours (approx.)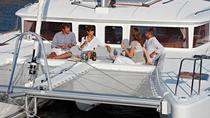 33 Reviews
Experience the beauty of Santorini and its volcanic caldera on this small group sailing tour. Cruise by some of the island's best-known landmarks before ... Read more
Location: Thera, Greece
Duration: 5 hours (approx.)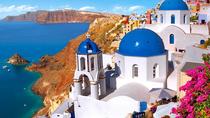 11 Reviews
See the attractions of Santorini on a private sightseeing tour with a driver-guide who introduces you to the island's natural, cultural, and culinary ... Read more
Location: Thira, Greece
Duration: 7 hours (approx.)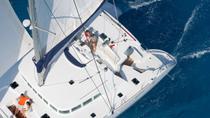 6 Reviews
Cruise around Santorini in style on this private, 5-hour cruise by luxury catamaran. Choose from a daytime or sunset cruise, then laze on deck and soak up the ... Read more
Location: Santorini, Greece
Duration: 5 hours (approx.)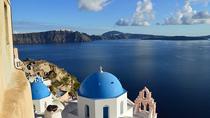 8 Reviews
Explore Santorini island on this full-day tour by bus to the most famous and attractive places on the island such as Oia, Red Beach and the Akrotiri ... Read more
Location: Thera, Greece
Duration: 11 hours (approx.)