There was once a time when San Francisco Bay had exactly zero bridges. Cars had yet to reach the masses of residents who stayed past the gold rush, and ferries were the only way of quickly crossing the San Francisco Bay. Boats would depart from Sausalito and motor to San Francisco, and also stop at the Berkeley Pier on the bay's eastern shore. It was a time of spirited exploration and westward US expansion, and the frontier fervor was palpably strong on the docks of Hyde Street Pier.
Today, while the majority of visitors to San Francisco simply drive across a bridge, it's still possible to experience this era while strolling the Hyde Street Pier. Old, historic, wooden boats are still tied to the creaking dock, and the smell of salt in the foggy air is the same as in centuries past. For an added fee, visitors can explore inside these boats that have literally sailed the globe. Aboard the Balclutha, a 301-foot, three-masted square-rigger that "rounded the horn" 17 times, get a feel for the life of a sailor in the early 1900s. Or, learn how Hercules, a 151-foot tugboat, literally towed a ship from New Jersey around the tip of South America to the shores of San Francisco. Maritime heritage played an important role in San Francisco's founding, and it's all on display when you walk the docks of historic Hyde Street Pier.
Practical Info
Hyde Street Pier is part of the San Francisco Maritime National Historic Park.  Hours for visiting the Hyde Street Pier are from 9:30am-5pm daily, and last admission is at 4:30pm. There's an entrance fee of $5 to visit the historic ships, and children under 16 are free.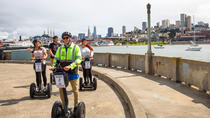 284 Reviews
Enjoy spectacular views of San Francisco Bay while you glide from site to site on an eco-friendly Segway - it's the coolest ride of the 21st-century! Far ... Read more
Location: San Francisco, California
Duration: 2 hours 30 minutes (approx.)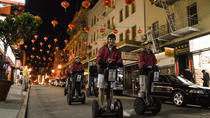 34 Reviews
When the sun goes down in San Francisco, a twinkling display of lights keeps the city glowing throughout the night. While a brisk stroll is one way to admire ... Read more
Location: San Francisco, California
Duration: 2 hours 30 minutes (approx.)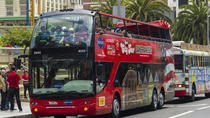 2074 Reviews
See San Francisco at your own pace on a hop-on hop-off coach tour with several route options. A double-decker bus, featuring live narration, takes you to major ... Read more
Location: San Francisco, California
Duration: Varies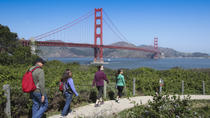 This refreshing, easy-going walk along San Francisco's spectacular waterfront starts at the historic Hyde Street Pier (a collection of historic sailing ... Read more
Location: San Francisco, California
Duration: 4 hours (approx.)