3 Reviews
Address:

Temple Square, Salt Lake City, USA 84150

Hours:

Open daily from 9am to 9pm
The Salt Lake Tabernacle on Temple Square was built between 1863 and 1875 and originally housed meetings of The Church of Jesus Christ of Latter-day Saints (LDS church). It was also the location of the semi-annual LDS General Conference for 132 years, before the conference moved to a new center in 2000.
The Tabernacle's unusual design is said to have come to Brigham Young while he was contemplating a hollowed-out eggshell. After the facility was completed it was considered an architectural wonder of its day, leading Frank Lloyd Wright to dub it "one of the architectural masterpieces of the country and perhaps the world." Nearly 1.5 million feet of lumber was chopped in the nearby Wasatch Mountains to complete the project. The grand 11,623-pipe Tabernacle Organ, which pipes are made of hand-carved wooden staves, is one of the largest and sonorous organs in the world.
Tours of the building include a demonstration of the Tabernacle's remarkable acoustics. Visitors are asked to sit in the rear of the building as the guide drops a pin on the floor close to the podium. The sound can be heard clearly throughout the hall. These incredible acoustics are why the Grammy-award winning Mormon Tabernacle Choir calls the Tabernacle its home.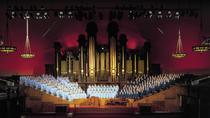 106 Reviews
Don't miss the world-famous Mormon Tabernacle Choir! In addition to a Salt Lake City sightseeing tour of sites including the State Capital Building, Old ... Read more
Location: Salt Lake City, Utah
Duration: 5 hours (approx.)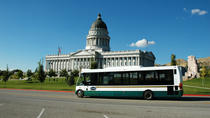 109 Reviews
On this sightseeing tour of Salt Lake City, visit popular attractions such as Temple Square, the State Capitol Building, Old Deseret Village, the Mormon Trail, ... Read more
Location: Salt Lake City, Utah
Duration: 4 hours (approx.)
Explore the best attractions of Salt Lake City with an experienced tour guide on this 2-hour private sightseeing tour for up to 4 passengers. ... Read more
Location: Salt Lake City, Utah
Duration: 2 hours (approx.)
6 Reviews
Explore only the best attractions of Salt Lake City with a top-rated tour guide on a 2-hour VIP sightseeing tour PLUS a 30-minute organ ... Read more
Location: Salt Lake City, Utah
Duration: 2 hours 30 minutes (approx.)
6 Reviews
Explore the best attractions of Salt Lake City with a top-rated tour guide on a 2-hour VIP sightseeing tour. You'll receive special ... Read more
Location: Salt Lake City, Utah
Duration: 2 hours (approx.)
COMBINE  the best attractions of Salt Lake City and Great Salt Lake with an experienced tour guide on this 4-hour private sightseeing tour for up to ... Read more
Location: Salt Lake City, Utah
Duration: 4 hours (approx.)
2 Reviews
Hear the Mormon Tabernacle Choir perform or rehearse the "Music and the Spoken Word" concert, the world's longest continually running network ... Read more
Location: Salt Lake City, Utah
Duration: 2 to 2.5 hrs