Rotterdam's architecture is by far its most noticeable and influential quality. Since its near-flattening during World War II, the city has been reborn. It's a new area of innovative building with only wisps of the former gabled city left around Delfshaven. Rotterdam's new skyline is made up of inventive buildings, not to mention the iconic and elegant lines of the Erasmus Bridge. 
Nicknamed "Manhattan on the Maas," the city's youth is clear-- the public transport system is efficient and housed in futuristic hubs, downtown skyscrapers glitter in the sun and the quaysides have all but disappeared under a wealth of fresh forms. The new complements the old, with Piet Blom's extraordinary Cube Houses jostling for position with the ornate 1898 Witte Huis (White House) at Oude Haven built nearly a hundred years earlier and the Art Nouveau Hotel New York holding its own among gleaming haborside monoliths.
Regeneration is the buzzword as Rotterdam continues to evolve. With industry booming seaside, the old port area has been revamped with such innovative skyscrapers as the Norman Foster-designed World Port Center, the Maastoren office block and the New Orleans building, currently the tallest residential structure in the Netherlands at 43 stories tall. All can be seen on a boat tour of the harbor.
Rem Koolhaas designed the Kunsthal Rotterdam museum in the 1990s, setting a precedent for stylish public buildings that has seen the advent of the red-brick New Luxor Theatre, the glass bubbles of the Drijvend Paviljoen (Floating Pavilion) and the dynamic Red Apple apartment block. The expansive, horseshoe exterior of the new Markthal (Market Hall) is one of a kind, and even the city's tourist information office is housed behind a sparkling new glass façade. For an overview of this architectural evolution, take the elevator up Euromast, Rotterdam's original skyscraper, to see the city being reborn below.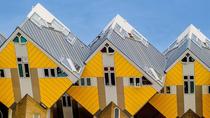 13 Reviews
A multi-faceted city with layers of history, Rotterdam is one of the most intriguing cities in the Netherlands. This customizable private walking tour reveals ... Read more
Location: Rotterdam, Netherlands
Duration: 4 hours (approx.)
575 Reviews
Experience the best of the Netherlands in one day on this sightseeing tour from Amsterdam! Visit the city of Rotterdam, admire famous Delft pottery in Delft, ... Read more
Location: Amsterdam, Netherlands
Duration: 9 hours 30 minutes (approx.)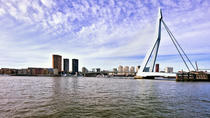 1 Review
See Holland's principal sights in the company of your very own private guide on this full-day sightseeing tour from Amsterdam. Take in the bold modern ... Read more
Location: Amsterdam, Netherlands
Duration: 8 hours (approx.)
Spot the highlights of Rotterdam with City Sightseeing Rotterdam, a sightseeing tour you're in control of! Get in the Hop-On Hop-Off bus and discover Rotterdam ... Read more
Location: Rotterdam, Netherlands
Duration: 1 day (approx.)