A harbor cruise may be the best way to admire the innovative architecture of this burgeoning city, and there are many options for those looking to take to the water. Most cruises depart from points around Euromast, so pick between a high-speed, adrenaline-pumping ride in a rigid-inflatable boat up the River Nieuwe Maas, a stately cruise aboard a tall ship or a voyage on a sleek, modern ferry. Tours provide insight into the development and capacity of Europe's biggest commercial port as the boats glide past wharves, cranes, cargo ships and cranes.
A cruise brings visitors up close to the landmark Erasmus Bridge, the gleaming edifices of Norman Foster's World Port Center and the polished office block of Maastoren, plus the Art Nouveau Hotel New York. The steamship SS Rotterdam is moored up in the harbor, and a replica of the 18th-century wooden warship De Delft floats on the other side of the Maas.
See the sights of Oude Haven and Delfshaven from land and then slip into the River Nieuwe Maas for a harbor tour on an amphibious bus, or for a really novel experience, submerge yourselves in hot water and cruise Rotterdam's canals on a wood-fired HotTug. If you don't have sea legs, stroll along the harbor's Haven Route to admire the impressive contemporary skyline.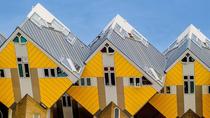 13 Reviews
A multi-faceted city with layers of history, Rotterdam is one of the most intriguing cities in the Netherlands. This customizable private walking tour reveals ... Read more
Location: Rotterdam, Netherlands
Duration: 4 hours (approx.)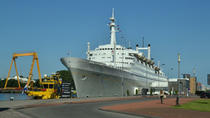 1 Review
Journey back in time to the heyday of the Netherlands' largest — and some say greatest — passenger liner during a tour of the SS 'Rotterdam.' Choose between a ... Read more
Location: Rotterdam, Netherlands
Duration: 90 minutes (approx.)