5 Reviews
Address:

Via San Gregorio, 30, Rome, Italy

Admission:

48-hour combined ticket €12
Palatine Museum at Palatine Hill (Museo Palatino) Tours
Some call the entire Palatine Hill an open-air museum, but there's an actual Palatine Museum set among the ruins, too.
Most of the appeal of a visit to the Palatine Hill is to walk through the ancient Roman ruins, imagining what it might have been like to live and work in them 2,000 years ago. Besides the structures themselves and the frescoes that are forever adhered to the walls, the items that archaeologists have recovered during excavations of the site are often put into the Palatine Museum. Some pieces in the museum's collection date from well before the city of Rome was officially founded, while most of the artifacts date to the 1st and 2nd century.
Practical Info
The ruins on the Palatine Hill are open to the public starting at 8:30am, with the closing time varying from 4:30pm-6:30pm depending on the season. A 48-hour combined ticket that includes the Colosseum, Forum, and Palatine Hill costs €12. Children under age 18 are admitted for free, and there's free admission the first Sunday of every month.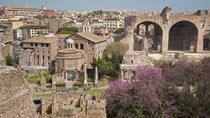 16 Reviews
Emperor palaces and tales of Romulus and Remus wait at Palatine Hill. Explore this historic area of Rome with a private history-expert guide, and learn about ... Read more
Location: Rome, Italy
Duration: 3 hours 30 minutes (approx.)