Centro Storico Tours
The area of Rome known as the "centro storico," or "historic center," is sometimes referred to as whatever lies inside the ancient Aurelian Walls, but the border the walls created aren't exactly the same as what many people refer to as the Centro Storico today.
UNESCO designated the "Historic Center of Rome" a World Heritage Site in 1980, declaring the area inside the Aurelian Walls plus Vatican City (which was outside the walls) to be the city's Centro Storico. To most visitors, however, the Centro Storico is much smaller, and where many of the main attractions are located.
In the Centro Storico, you can visit sights such as the Pantheon, Piazza Navona, Trevi Fountain, and the Capitoline Hill. The Forum and Colosseum are just outside the smallest interpretation of the Centro Storico, as are Vatican City and the Trastevere neighborhood.
Practical Info
Some say the Centro Storico roughly means the same thing as the area formerly known as the Campus Martius – that's the smallest version of the Centro Storico. When you're talking to a taxi driver, however, they use the old border of the Aurelian Walls to determine fares.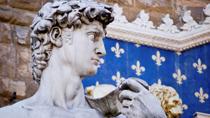 219 Reviews
Combine a walking tour of Renaissance-era Florence with a skip-the-line tour of the Accademia Gallery (Galleria dell' Accademia)! With a local guide, stroll ... Read more
Location: Florence, Italy
Duration: 3 hours (approx.)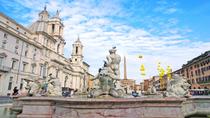 316 Reviews
Spend your morning on this classic Rome tour, seeing all the top attractions in Rome's 'centro storico' – its historic center. By both coach and foot, visit ... Read more
Location: Rome, Italy
Duration: Flexible
2189 Reviews
Combine a trip to Naples with a tour of Pompeii's ruins on a full-day excursion from Rome! From the comfort of your coach, see the sights of Naples, admiring ... Read more
Location: Rome, Italy
Duration: 13 hours (approx.)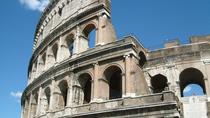 1860 Reviews
Visit the Colosseum, Roman Forum and Rome's 'centro storico' (historical center) on this must-do Ancient Rome tour. The 3.30 hour Rome walking tour offers the ... Read more
Location: Rome, Italy
Duration: 3 to 3.30 hrs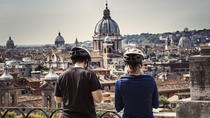 96 Reviews
See the sights of the Eternal City on a full-day electric-assist bicycle tour, with a pizza or pasta lunch, wine and a gelato stop included! Easy and safe to ... Read more
Location: Rome, Italy
Duration: 7 hours (approx.)
483 Reviews
Sit back and relax on a 2-hour night sightseeing tour of Rome. While traveling by air-conditioned coach around Rome's 'centro storico,' Ancient Rome and ... Read more
Location: Rome, Italy
Duration: 2 hours (approx.)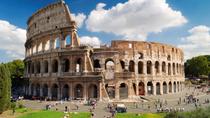 20 Reviews
Discover the highlights of Rome on an action-packed Super Saver tour, spread over two days, that combines four top sightseeing experiences at a discount of ... Read more
Location: Rome, Italy
Duration: 2 days (approx.)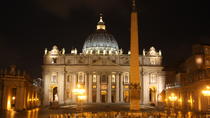 Explore Rome at night on a 2-hour electric bike tour as you admire the Forum, the Colosseum and much more. At the end of the tour stop for a slice of ... Read more
Location: Rome, Italy
Duration: 2 hours (approx.)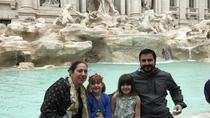 Take your family on a delicious walk in Rome's historic center. With this tour you'll see some of the most famous locations of the Eternal City, such as ... Read more
Location: Rome, Italy
Duration: 2 hours 30 minutes (approx.)
Explore the Baroque squares and fountains of Rome on a 2-hour walking tour, stopping to taste the famous gelati of Italy at some of the city's finest ... Read more
Location: Rome, Italy
Duration: 2 hours 30 minutes (approx.)