Just a few miles/kilometers downstream from Quebec City, the St. Lawrence River splits and the land between is Orleans Island, or Ile d'Orleans. Just 22 miles/35 kilometers long and 6 miles/9 kilometers wide, the island still evokes that pioneering spirit in its people and culture since it was colonized in the 17th century.
Orleans Island has six tiny delightful villages. Ste-Petronille is famous for its Victorian Inn, La Goelich, and has a dazzling forest of red oaks. St-Laurent was once the shipbuilding center on the island, the heritage of which is embraced at Maritime Park. St-Jean is filled with homes of creamy yellow "Scottish brick" facades, which came from the ballast of boats. Also here is La Sucrerie Blouin, where you can see maple syrup being made.
Just outside St-Francois you can take in sweeping views of the St. Lawrence River and the Laurentian Mountains. Ste-Famille is the oldest parish on the island; stop by Maison de nos Aieux for information on the island's history. St-Pierre has the islands oldest church and the orchard Bilodeau, which produces fine regular and ice ciders, which make for perfect stop before heading back to Quebec City.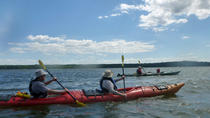 1 Review
Explore the St. Lawrence River on a sea-kayaking tour for a memorable experience. With easy-to-follow techniques and sea-kayak equipment provided, this 3-hour ... Read more
Location: Quebec City, Canada
Duration: 3 hours (approx.)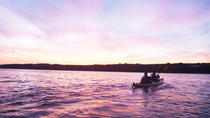 Explore the St. Lawrence River on a sunset sea-kayaking tour for a memorable and unique experience. Paddle to the rhythm of the tide and current. With ... Read more
Location: Quebec City, Canada
Duration: 2 hours 30 minutes (approx.)