San Antonio Arrazola Tours
Massive Indian Laurel trees line the winding roads that lead to this picturesque town at the foothills of Monte Alban. Known for its famous painted wooden animals called alebrijes, some 80 families craft these popular souvenirs by hand using local copal, Sierra Sur and Mixteca trees. Travelers can explore the markets, museum and galleries of San Antonio Arrazola, where these one-of-a-kind pieces are on display and learn more about the age-old tradition passed down through generations. Those in the know say it's best to have artisans pack up figures to keep them safe to travel and that once visitors arrive home the alebrijes should be popped in the freezer temporarily to kill off any termites.
Practical Info
San Antonio Arrazola is located about 8 kilometers from the city of Oaxaca. Travelers can take the second-class bus or group taxi from the central de Abastos. It's best to travel to San Antonio Arrazola in the early afternoon, as most shops open during the later hours of the morning.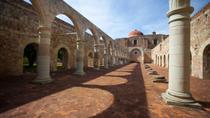 21 Reviews
Explore the cultural treasures surrounding Oaxaca on a full-day trip with an experienced guide. Travel by coach to the UNESCO World Heritage-listed Monte Alban ... Read more
Location: Oaxaca, Mexico
Duration: 8 hours (approx.)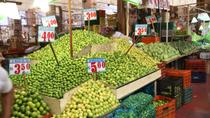 5 Reviews
This tour will introduce you to the Zapotec culture and Spanish colonial history of Oaxaca as you visit several traditional towns outside the city. Meet your ... Read more
Location: Oaxaca, Mexico
Duration: 4 hours 30 minutes (approx.)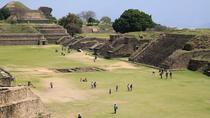 7 Reviews
You will visit Monte Albán, which is the biggest Zapotec urban center. Then, see the town of Arrazola which is a wooden craft village and discover how to ... Read more
Location: Oaxaca, Oaxaca
Duration: 8 hours (approx.)