No reviews, be the first!
Address:

Gia Thịnh, Ninh Binh, Vietnam

Admission:

Boat tours from here cost around 200,000VND
The fishing village of Kenh Ga has been described by travel bloggers as amalgamation of Halong Bay, the marshy fens of England and Mediterranean Europe. And, perhaps visually, that's true—Kenh Ga, is a working community set amidst limestone karst formations and rice paddies and its waterfront main drag is dominated by a bright yellow-steepled Catholic church. But it's also a vibrant rural village whose residents, until recently, used to live entirely on the water as a floating village. The town retains its watery roots and the sleepy, green-brown Hoang Long River serves as its main drag. Villagers sell vegetables, fish along the riverbanks and even ferry children to the local school by boat, and it is still possible to find some families who continue to live aboard floating houseboats.
Kenh Ga, which loosely translates to 'chicken canal,' was supposedly named for its population of wild chickens and a local hot spring (included in some tours) that was used to soak chickens to ready them for plucking. The village is only accessible by boat and affords a glimpse into a community whose way of life has been little-changed by time.
Practical Info
Motorboats to Kenh Ga depart from the boat pier 6 miles from Highway 1 north. Boat tours from here cost around 200,000VND ($9USD) for two people and last about an hour and a half round trip. Several tours companies include Kenh Ga in multi-day itineraries originating in Hanoi; it is possible to find a day trip specifically to the Ninh Binh region that will likely also include the region's other popular sites. Though generally the rainy season from June to September is a time to avoid popular outdoor sites, this attraction is at its prime when water levels are highest.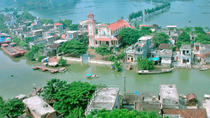 Van Long natural reserve is located in Gia Vien district, Ninh Binh province. It is not only a natural reserve of wetlands but also the cultural relics. ... Read more
Location: Hanoi, Vietnam
Duration: 1 day (approx.)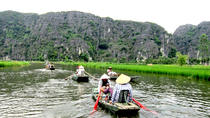 This amazing 3-day tour exploring Perfume Pagoda Complex, one of the most sanctuary place in every Vietnamese people's mind and the most-visited spots in Ninh ... Read more
Location: Ninh Bình, Vietnam
Duration: 3 days (approx.)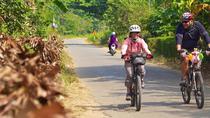 This 3-day cycling tour discovering most of Ninh Binh's well-known spots such as: Phat Diem Stone Cathedral-the center of Catholicism in northern Vietnam, Tam ... Read more
Location: Ninh Bình, Vietnam
Duration: 3 days (approx.)