No reviews, be the first!
Address:

Bardon Mill, Hexham, Northumberland, England

Hours:

Vary by season, but roughly 10am–5pm

Admission:

Adults: £6.60; Children under 14: £4
The UNESCO World Heritage-listed Hadrian's Wall took a decade to construct from AD 122 onwards to prevent rebel tribes in Scotland from repeatedly crossing the frontier and attacking Roman territory. Standing around five m (16 ft) high and three m (9.5 ft) across, the wall was guarded day and night by soldiers housed in a series of 16 forts and settlements constructed along its 135 km (84 mile) length between Bowness-on-Solway on the west coast and Wallsend in the east. Housesteads Fort is located near present-day Hexham in Northumberland National Park and stands high on a hill with far-reaching and spectacular views across bleak, undulating moorlands. Originally known as Vercovicium, it was home to 800 soldiers at any one time and the garrison is one of the best preserved of all Roman forts, with the barracks, dining halls, hospital, granaries and even communal latrines still clearly visible in the neat stone layouts; parts of the gates and encircling wall still stand too. It was active for more than 200 years before the Roman Empire collapsed, after which Housesteads was abandoned for centuries and only rediscovered in the 19th century. Today a small museum by the fort highlights the history of the Roman invasion of Britain as well as the construction of Housesteads; artifacts recovered from the fort and displayed there include jewelry, scraps of leather shoes and weapons.
Practical Info
Bardon Mill, Hexham, Northumberland NE47 6NN. Opening times vary according to season, but roughly 10am–5pm. Admission adults £6.60; children under 14 £4; family ticket £17.20. Parking fee £4. A 15-minute walk uphill from the visitor center. Best reached along the B6318, off the A69.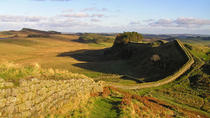 115 Reviews
Join this small group tour (maximum 16 passengers) and travel to the amazing and mysterious 15th century Rosslyn Chapel, across the historic Scotland/England ... Read more
Location: Edinburgh, United Kingdom
Duration: 10 hours 30 minutes (approx.)
English Heritage Overseas Visitor Pass gives you the best value for money and a simple way to explore England's greatest historical attractions, such as ... Read more
Location: Salisbury, United Kingdom
Duration: 9 to 16 days