Stockton Beach has sand like any other beach, but this New South Wales spot has dunes of sand that reach up to 90 feet high. Historically the beach has been the site of several shipwrecks; the wreckage of some continues to wash ashore. The most well known wreck was the Sygna, an enormous Norwegian freight ship that crashed during a storm in 1974. What remains of the ship can be seen from the beach and has become a local landmark.
Today the area is a popular camping, sand boarding and 4WD vehicle area due to its firm sands and massive sand dunes. Camel and horseback rides, quad biking, and surfing make the Stockton Bight sand dunes an adventure and activity hub. There is also fishing and scuba diving in the waters off the coast.  Clear rock pools nearby are a fun way to see various marine wildlife as well. The coastal desert wilderness stretches nearly 20 meters.
Practical Info
Stockton Bight is located on the coast north of Sydney, halfway between Victoria and Queensland. It best to arrange activities on the dunes ahead of time.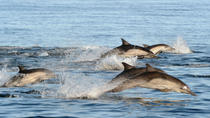 159 Reviews
Discover the scenic North Coast region of Port Stephens on a full-day coach tour from Sydney. Visit a wildlife park to check out the critters, then hop on a ... Read more
Location: Sydney, Australia
Duration: 11 hours (approx.)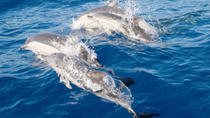 6 Reviews
Discover the stunning white sand beaches and sparkling waters of the North Coast on this Port Stephens day trip from Sydney. View the wildlife at the ... Read more
Location: Sydney, Australia
Duration: 10 hours 45 minutes (approx.)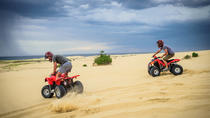 2 Reviews
Tackle the Quad Bike King Adventure with 30 minutes in the Sandpit and then an amazing 1 hour journey over the dunes, taking a look at the Sygna ... Read more
Location: Williamtown, Australia
Duration: 2 hours 15 minutes (approx.)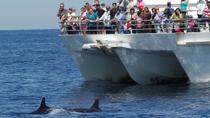 Explore beautiful Port Stephens on this full-day tour from Sydney. Sail out on a dolphin-watching cruise. Then, visit the Australian Reptile Park. Experience ... Read more
Location: Sydney, Australia
Duration: 12 hours (approx.)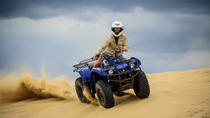 Discover the amazing eco-system that is Stockton Beach on a fully-guided tour to see the famous remnants of the Sygna Shipwreck.
Location: Williamtown, Australia
Duration: 105 minutes (approx.)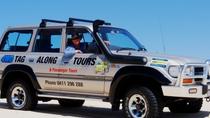 1 Review
Don't have your own 4WD vehicle? No worries! This is the only 4WD Tour to take you on a Bush, Beach and Sand Dune Tour to see the hidden secrets of Port ... Read more
Location: Nelson Bay, Australia
Duration: 3 hours (approx.)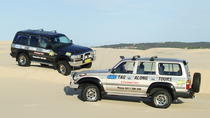 1 Review
Learn how to drive your own 4WD in the Tomaree National Park and Stockton Sand Dunes safely and hassle free, with experienced and knowledgeable guides. The ... Read more
Location: Nelson Bay, Australia
Duration: 3 hours 30 minutes (approx.)