1099 Reviews
Address:

2247 Louisiana 18, Vacherie, LA 70090, USA

Hours:

Open daily, except certain major holidays. Ticket office opens at 9:30am, first tour of the day begins 10am and the final tour begins at 4pm.

Admission:

Adult $18, Child $6
Steeped in history far richer than the former plantation owners could have dreamed of owning, the Laura Plantation lies just beyond the reaches of the Greater New Orleans area. Originally built in 1804 by a French naval veteran of the American Revolution by the name of Guillaume Duparc, the plantation was erected on the site of an old Colapissa Indian village. A Creole-owned sugar plantation, the Laura Plantation differed from most plantations in its Code Noir ethics, its somewhat removed societal circumstances, and its beautiful sprawling sugar plantation landscape. Touring this iconographic plantation, you'll learn the difference between Creoles and Cajuns, hear chilling ghost stories, and see how a bygone way of life now heralds itself as one of the top Louisiana cultural attractions.
Practical Info:
From New Orleans, the Laura Plantation is off of Exit 194 on I-10 West. Go 4 miles south on HWY 641 to the BIG Mississippi River bridge. Cross the bridge & immediately take the FIRST ramp exit on your right. At the levee, turn LEFT and drive 4 miles to Laura Plantation. The first tour of the day begins at 10:00 am, the final at 4:00 pm. Adult tickets are $18.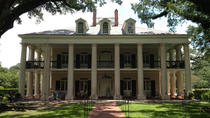 753 Reviews
A grand mélange presentation of Cajun and Creole cultures starting with a boat tour of the cypress swamps. Enjoy a traditional lunch at one of the oldest ... Read more
Location: New Orleans, Louisiana
Duration: 9 hours (approx.)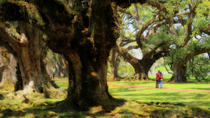 30 Reviews
Explore two historical Louisiana plantations on this day tour from New Orleans. You'll travel along the Great River Road, which winds along the Mississippi ... Read more
Location: New Orleans, Louisiana
Duration: 7 hours 15 minutes (approx.)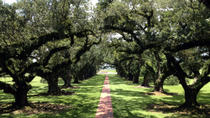 299 Reviews
Go beyond New Orleans to tour two grand Louisiana plantations on the banks of the Mississippi River. Watch guides in period costume bring to life the history ... Read more
Location: New Orleans, Louisiana
Duration: 6 hours (approx.)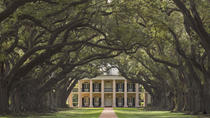 52 Reviews
Tour both Oak Alley and Laura Plantation during one trip. This day trip from New Orleans is perfect for the traveler looking to see two pieces of history in ... Read more
Location: New Orleans, Louisiana
Duration: 6 hours 30 minutes (approx.)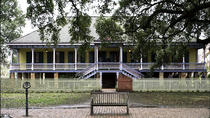 13 Reviews
This tour is a combination plantation tour of Oak Alley Plantation and Laura Plantation. Pickup will between 10:30am and 11am return to your hotel around 6pm.
Location: New Orleans, Louisiana
Duration: 7 hours (approx.)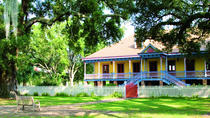 15 Reviews
Delve into the history of Louisiana on a visit to Laura: A Creole Plantation, a major sugar plantation located on the banks of the Mississippi River, just one ... Read more
Location: New Orleans, Louisiana
Duration: 90 minutes (approx.)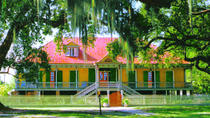 Enjoy a small-group 6-hour tour to Laura and Oak Alley plantations in Vacherie, Louisiana on a day trip from New Orleans. Experience a unique contrast between ... Read more
Location: New Orleans, Louisiana
Duration: 6 hours (approx.)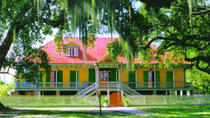 Enjoy a guided tour of the Laurie Plantation, including round-trip transportation, with this 4-hour small-group trip from New Orleans. Visit the historic ... Read more
Location: New Orleans, Louisiana
Duration: 4 hours (approx.)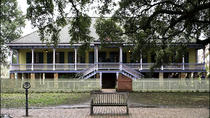 8 Reviews
Discover the Mississippi Valley's historic but turbulent past at Laura Plantation on this guided, 5.5-hour tour from New Orleans. Laura Plantation is a ... Read more
Location: New Orleans, Louisiana
Duration: 5 hours 30 minutes (approx.)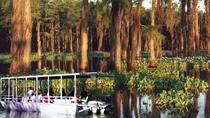 1 Review
Experience Oak Alley Plantation, Laura Plantation, lunch at a Cajun restaurant, and a swamp tour in the same day on this full day tour Combo tour. Your guide ... Read more
Location: New Orleans, Louisiana
Duration: 9 hours (approx.)