Jewish Cemetery Tours
A poignant reminder of Nevis' once-prominent Jewish community, who found their way to the island in the 17th and 18th centuries after their forced exodus from Brazil, the Jewish Cemetery now ranks among the island's most significant historic sites. Around 19 tombstones still stand in the cemetery, with the earliest dating back to 1679, and inscriptions in Hebrew, English and Portuguese.
Nevis' Jewish population, who brought with them secrets of crystallizing sugar, were an important key to success for the island's sugar industry, and archeologists also believe nearby ruins to be the remains of a synagogue and Jewish school.
Practical Info
The Nevis Jewish Cemetery is located in Charlestown on Nevis Island.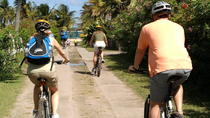 The History and Heritage tour is suitable for the visitor who wish to indulge themselves into the rich and exciting past of this beautiful island. Discover ... Read more
Location: Charlestown, Nevis
Duration: 2 hours (approx.)