Navigli District Tours
The center of Milan was once crisscrossed with a series of interconnecting canals, called "navigli," used to transport goods and people. Two still exist just south of the city center, and the surrounding Navigli District is one of Milan's trendiest areas, full of galleries, cafés, restaurants, and clubs. It's a hot spot worth a visit.
The Basics
The Navigli District is known for its vibrant nightlife. On summer evenings and weekends, the streets come to life with teeming bars and nightclubs, many with outdoor tables along the canals or located directly on the water on floating barges. This is the great place to discover Milan's thriving food and wine scene, so consider joining a Milan aperitivo tour or beer tasting, or a walking tour of the neighborhood with a gourmet slant.
Things to Know Before You Go
The picturesque Navigli area, with its canals and colorful period buildings, is one of the most photogenic neighborhoods in Milan. Be sure to bring your camera.

One of the prettiest corners is Vicolo dei Lavandai, an offshoot of Naviglio Grande, where the Milanese would do their washing by hand. Today, the lane is lined with restaurants and shops.

The area is paved and well-maintained, so it's easy to manage with a wheelchair or stroller.

How to Get There
It's a pleasant walk from the Galleria Vittorio Emanuele II and the Duomo di Milano along Via Torino past the Colonne di San Lorenzo to Corso di Porta Ticinese, which brings you to the Navigli. Or, take metro line 2 to the Porta Genova stop. Milan is one of the most important cities in Italy and the capital of Lombardy, so it's well-connected by train to Venice, Florence, and Rome.
When to Get There
The Navigli District is most vibrant in summer from late afternoon through the evening, as the area's bars and restaurants start to fill up, so join an afternoon food tour or evening walking tour to see the canals of Milan at their best.
Navigli District History
The first navigli canals were built in the 12th century, and over the centuries the system created by channeling existing rivers and dredging new waterways has been used for everything from irrigation to defense. By the beginning of the 20th century, most of Milan's navigli had fallen into disuse and were paved over in the 1930s, leaving only Naviglio Grande and Naviglio Pavese in the working-class neighborhood just outside the wealthy city center. Low rents began to attract artists, who set up galleries and studios, and today the Navigli District has funky, bohemian atmosphere, making it one of the most desirable areas in the city.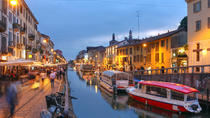 37 Reviews
Explore Milan's historical Navigli canal district on a 2.5-hour evening walking tour, and enjoy wine and several snacks, too! With a local guide, enjoy a glass ... Read more
Location: Milan, Italy
Duration: 2 hours 30 minutes (approx.)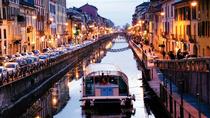 9 Reviews
Are you in search of the ultimate culinary Italian experience in Milan? This Afternoon Milan Food Tour with Beer or Wine Tasting is exactly what you need if ... Read more
Location: Milan, Italy
Duration: 3 hours (approx.)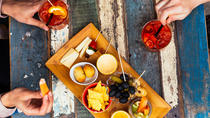 Experience beautiful Milan on a sunset walk and enjoy Italy's popular happy-hour tradition, called the aperitivo. Follow your private guide, stroll through a ... Read more
Location: Milan, Italy
Duration: 2 hours (approx.)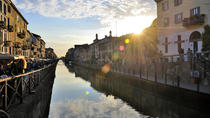 Explore Milan's Navigli district, on a 2-hour walking tour!
Location: Milan, Italy
Duration: 2 hours (approx.)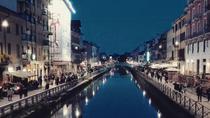 1 Review
Discover Milan's ancient Navigli district and learn about its history and traditions on this 1.5 hour walking tour. The series of canals that ring the old city ... Read more
Location: Milan, Italy
Duration: 60 minutes (approx.)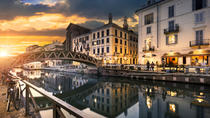 With a personal shopper at your full disposal, experience a fashion walk through Milan. Whether you want to find your new perfect outfit, to buy some real ... Read more
Location: Milan, Italy
Duration: 2 hours (approx.)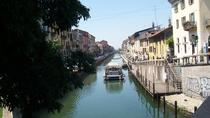 2-hour Milan Segway Tour with Canals, with a Milan licensed tourist guide, discovering Milan art and history, visiting the outstanding area of the famous Milan ... Read more
Location: Milan, Italy
Duration: 2 hours (approx.)
The tradition of aperitivo, a drink and small plates of food to snack on before dinner was born, bred and perfected in Milan! So for a truly authentic taste of ... Read more
Location: Milan, Italy
Duration: 3 hours (approx.)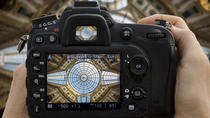 1 Review
Rich in historical architecture and brimming with next season's haute couture, Milan provides endless photo opportunities. It's fast and determined during rush ... Read more
Location: Milan, Italy
Duration: Flexible