No reviews, be the first!
Address:

Swanston St & LaTrobe St, Melbourne VIC, Australia

Hours:

Open 10am-7pm Sat-Weds, 10am-9pm Thursday and Friday.
Melbourne Central Shopping Centre Tours
Visiting Melbourne Shopping Center is a trip that can literally take days. Even if you spent only 10 minutes in each of the 300 shops, it would still take over 50 hours before the shopping was through. Granted—while it's impractical to visit every shop—there's still the time it takes to visit the sights within the center. Take, for example, historic Shot Tower—a bullet making facility from 1889 that's housed within the shops. To protect the original structure from crumbling, an enormous, 20-story, cone made of glass protects the entire tower—a feat of architectural engineering that's the largest of its kind in the world. While exploring the maze of eateries and shops, be sure to keep an eye on the time as it approaches the top of the hour. Every hour, on the hour, the famously oversized Marionette Watch sounds a version of "Waltzing Matilda," an old bush ballad that's considered the unofficial national anthem of Australia. 
Practical Info
The Melbourne Central Shopping Center is open 10am-7pm on Saturday-Wednesday, and from 10am-9pm on Thursday and Friday. Admission is free, although parking is pricy at $14/hour in the 880 stalls. To save money on parking costs, the tram or train are conveniently linked directly beneath the center.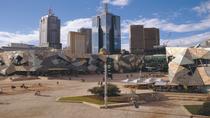 2 Reviews
Our Melbourne City Tour takes you through the wondrous sights of Melbourne. Learn about the city's fascinating history with your expert Oceania guide. With ... Read more
Location: Melbourne, Australia
Duration: 3 hours (approx.)