Black River Gorges National Park Tours
While Mauritius might be known for its world-class beaches and temptingly turquoise waters, the island offers more adventure than just snorkeling, swimming, and diving. In Black River Gorges National Park on the island's southwestern tip, 18 miles of hiking trails are embedded in a canopy of what's regarded as the island's last pristine section of forest. Between deforestation and invasive species, there was once a time when the forests seemed in danger of disappearing. In 1994, however, when Black River Gorges became the island of Mauritius' only national park, it provided a 25 square mile home for endemic plants and wildlife still found in the forest today. When hiking the trails in the forested uplands, remember to look up in the rustling branches for pink pigeons and Mauritius kestrels that flit their way through the trees. There's the chance you might spot mischievous monkeys when hiking to a viewpoint or waterfall, and while it's still possible to see the coast from the various hilltop viewpoints, the cobalt shores seem miles away from this green, protected sanctuary.
Practical Info
There is no admission to visit Black River Gorges National Park, and you can purchase a park map at the Black Gorges Information Center by the eastern Le Petrin entrance. The information center is open from 8am-3:15pm, Monday-Friday, and from 8-11am on Saturday. On the western park boundary there's another small information center at the end of Les Gorges Rd. Reaching the park requires private transport, a taxi, or a guided tour, and remember to bring plenty of mosquito repellent during all times of the year.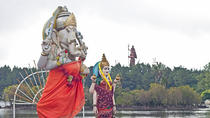 13 Reviews
Explore the south west of Mauritius. Visiting Floreal, Trou aux cerf, Grand Bassin, Gorges Natural Park, Alexandra Fall, Black River Gorges Water Fall and View ... Read more
Location: Port Louis, Mauritius
Duration: 7 hours (approx.)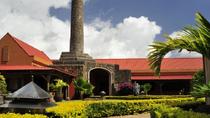 Spectacular changes of scenery will reveal some of the island's unique natural assets. A taste of nature, culture and refined gastronomy are a perfect mix for ... Read more
Location: Curepipe, Mauritius
Duration: 8 hours (approx.)