Palomino Island Tours
Lima isn't exactly a city you usually equate with wildlife. After all, this is the same country with the Amazon basin and its staggering biodiversity, so the thought of finding wildlife in the capital might seem a little bit strange. Believe it or not, however, there are a number of enthralling wildlife experiences that can be found right here in Lima—a city best known for its cosmopolitan and colonial sites on shore. Perhaps the best wildlife experience in Lima is visiting the Palomino Islands, a rocky collection of small islets off the coast of Callao. Step aboard a comfortable boat for a cruise to the offshore islands, where thousands of sea lions gather to swim and sun themselves on the rocks. If the water is calm enough and you're feeling brave, take the plunge to swim with the sea lions as they flop and jump all around you. You'll also find colonies of Humboldt penguins and an impressive amount of birdlife, including pelicans, tern, and dive-bombing cormorants who are constantly hunting for fish. In addition to the wildlife, cruises also provide a scenic tour of the neighboring coastline and islands, including San Lorenzo that's been an historical haven for priests, politicians, and pirates.
Practical Info
Boat tours to the Palomino Islands depart from the port of Callao. It can take 30 to 60 minutes to reach the islands depending on weather and conditions, and since water temperatures usually range between 60 and 70 degrees, it's a good idea to use the wetsuits that tour operators will provide. Be sure to take preventative medication if you know you're prone to motion sickness, and while tours run during all times of the year, December-April is generally considered the most comfortable time to visit.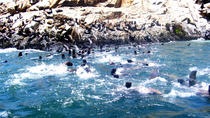 28 Reviews
Come enjoy a 4 hour cruise to 4 different islands off of Lima with a swimming experience with sea lions.
Location: Lima, Peru
Duration: 6 hours (approx.)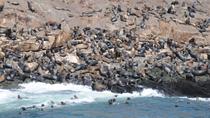 6 Reviews
Enjoy a fascinating boat ride and visit Palomino Islands, located facing the city of Lima. Learn about their interesting history and have the unique chance to ... Read more
Location: Lima, Peru
Duration: 4 hours (approx.)
1 Review
Live an amazing experience as you enjoy a sightseeing boat tour of Callao/Palomino Islands and get to swim with sea lions in their natural environment near ... Read more
Location: Lima, Peru
Duration: 6 hours (approx.)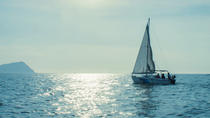 Lima has one of the most stunning views from the ocean. Don't miss this chance to see Limas' skyline from a different point of view. We have a beautiful 35 ... Read more
Location: Lima, Peru
Duration: 5 hours (approx.)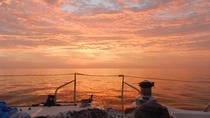 Lima has one of the most stunning views from the ocean. Don't miss this chance to see Limas' Skyline from a different point of view with 2.5-hours aboard a ... Read more
Location: Lima, Peru
Duration: 6 hours (approx.)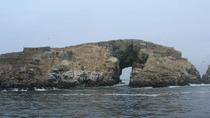 4 Reviews
Enjoy a morning boat ride out to the islands of Lima -- Palomino, Cabinzas and El Frontón. After a 30-minute boat ride, you'll arrive at the islands with ... Read more
Location: Lima, Peru
Duration: 4 hours (approx.)