No reviews, be the first!
Address:

23 Rue de l'Espérance, Roubaix, France 59100

Hours:

Tue-Thu 11am-6pm, Fri 11am-8pm, Sat & Sun 1pm-6pm

Admission:

Adult €9-€5.50, Child €6-€4
Musée La Piscine Tours
Far from being a museum dedicated to pools, Musée La Piscine in Roubaix is in fact an arts museum houses in a former indoor, Olympic-sized swimming pool. This somehow peculiar location was chosen because it features an outstanding art deco interior, having been built in 1927. The swimming pool remained in use until 1985, and was given a second life as an arts museum in 2000. Musée La Piscine holds items that date back from 1835, most of which were collected from a textile factory that once stood next door. Elements of literature, science and fine arts were added to enhance the collection of historic textiles and to form an extensive exhibition dedicated to the fruitful alliance between applied arts and industry. Some of the most famous paintings and sculptures found at La Piscine include works from Rodin, Picasso, Claudel, Gérôme, Stark, van Dongen and other contemporaries – which, of course, are complimented by the architectural marvel that is La Piscine.
Practical Info
Musée de la Piscine is located on Rue de l'Espérance in Roubaix, just outside of Lille. It can be reached by car via routes D656 and N356 from central Lille or by metro (stop Gare Jean Lebas). It is open between Tuesdays and Thursdays from 11AM to 6PM, on Fridays from 11AM to 8PM, and on the weekends from 1 to 6PM. It is closed on Mondays. Entry for temporary exhibitions costs €9 per adult and €6 per children, while permanent exhibitions cost €5.50 per adult and €4 per children.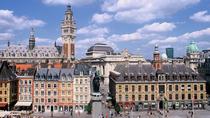 8 Reviews
A practical must-have, the Lille City Pass is the answer to all your visiting needs, whether you're staying one day or longer. Make considerable savings in ... Read more
Location: Lille, France
Duration: 1, 2 or 3 days