Ujibashi Bridge Tours
Few landmarks in Japan have figured so prominently in Japanese literature and art as Ujibashi Bridge. Spanning the Uji River in the town of Uji just outside of Kyoto, it is one of the oldest bridges in Japan. It was originally built in 646 and has witnessed plenty of history, including battles in 1180, 1184 and 1221. During the Edo period, the bridge was an early point along the tea caravan carrying Uji tea to the capital.
Practical Info
The bridge as it stands today dates back to 1996. Walking across offers excellent views of the surrounding town, and its historical significance alone makes it a must-see for anyone versed in Japanese literature, particularly the classic Japanese novel The Tales of Genji.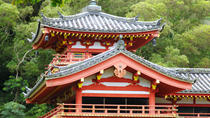 Explore the historic city of Uji on this walking tour from Kyoto. Your informative guide will give you an introduction to this city known for its tea and to ... Read more
Location: Kyoto, Japan
Duration: 4 hours (approx.)