Akashi Kaikyo Bridge Tours
The Akashi Kaikyo Bridge, also known as the Pearl Bridge, spans the Akashi Strait from Kobe to Iwaya on Awaji Island. Since its completion in 1998, it has held the record of having the world's longest central span in any suspension bridge, measuring 1.2 miles (1.9 kilometers). In total, the bridge extends 2.4 miles (3.9 kilometers).
Located at the foot of the Kobe side, the Bridge Exhibition Center displays information on the planning and construction of the bridge, as well as on other suspension bridges around the globe. An elevator at the base of the Kobe side takes visitors to the Maiko Marine Promenade, a pedestrian hallway beneath the main platform that offers views of the bridge's interior.
Bridge World tours take visitors to the very top of one of the 984-foot (300-meter) towers, and when the weather is right, the views extend all the way to Osaka.
Practical Info
Access the Maiko Marine Promenade and Bridge Exhibition Center by taking the JR Sanyo Line to Maiko Station or the Sanyo Railway main line to Maiko-Koen Station.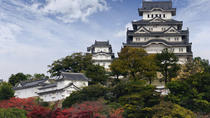 16 Reviews
This full-day walking tour takes you to one of Japan's national treasures: the UNESCO World Heritage-listed Himeji Castle. Leave by rail from Osaka for a visit ... Read more
Location: Osaka, Japan
Duration: 8 hours (approx.)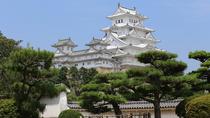 17 Reviews
Embark on a full-day walking tour to the UNESCO World Heritage site of Himeji Castle. You'll take public transportation from Kyoto to Hyogo with a guide to the ... Read more
Location: Kyoto, Japan
Duration: 9 hours (approx.)