Yedikule Fortress Tours
Also known as the Fortress of Seven Towers, the Yedikule Fortress is located just over 3 miles southwest of Sultanahmet. It was first built as the Golden Gate during the reigns of Theodosius I and II in the 5th century. With enormous doors covered in gold, the gate had four towers and was the ceremonial entrance to the city for those arriving from Europe. After the conquest of Constantinople in 1453, Mehmet the Conqueror added three towers to the structure to transform it into a fortress, treasury and prison. The towers today are known as the Armory Tower, the Flag Tower, the Sultan Ahmet III Tower, the Dungeon Tower (also known as the Tower of Inscriptions), the Top Tower, the Tower of the Treasury and the Young Osman Tower, where Sultan Osman II died while imprisoned.

The Yedikule Fortress also marks the end of the remaining land walls surrounding Istanbul. If you're feeling adventurous, it's possible to walk all the way on or along the walls between the fortress and Ayvansaray, about 7 kilometers north on the Golden Horn.
Practical Information
Outside of the city center, the best way to reach the Yedikule Fortress is to take a suburban train from Sirkeci Station toward Halkali, getting off at Yedikule. The fortress is open daily except Wednesdays, 9:30 a.m to 4:30 p.m. and admission is 5 Turkish lira.  Another great option is to take a half or full day tour of Istanbul, many of which visit the fortress.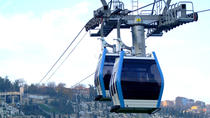 5 Reviews
See Istanbul from a different perspective: by boat on this half-day tour. But first take a cable car up to Pierre Loti Hill. Encounter the walls of ... Read more
Location: Istanbul, Turkey
Duration: 3 hours 30 minutes (approx.)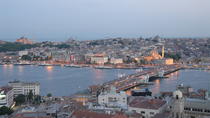 Board a boat and get set for a fascinating cruise in Istanbul around the Golden Horn on this full-day tour. Start off with a stroll around the ancient ... Read more
Location: Istanbul, Turkey
Duration: 8 hours (approx.)