Located along a scenic peninsula atop a towering plateau, the idyllic city of Bern is tucked between the Gurten and Bantiger mountains and has been designated a UNESCO World Heritage site. The city's lush and uneven landscape was formed by glacier movement during the Ice Age and a stroll through its rolling hills provides travelers with incredible views. (The best panoramic views can be found at the city's Rose Garden, near the town's center.)
Visitors to this historic town will find plenty of medieval influence in Bern's ornate architecture. The Zytglogge clock tower—with moving puppets—and the 15th century Gothic cathedral are just two of the incredible structures that line the streets of this picturesque place. History and science lovers can also make a stop at Kramgasse 49, where the great Albert Einstein lived from 1903 to 1905.
Practical Info
Bern serves as a sort of capital of culture for Swiss citizens. Travelers who visit during the second week of November can catch Queersicht—an annual gay and lesbian film festival. BeJazz, another popular music event, is held in both winter and summer months and an international jazz festival with performers from across the globe takes place each year as well.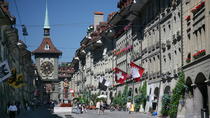 3 Reviews
Spend a half day in Bern, the capital city of Switzerland with your private tour guide. Your walking tour will give you a complete overview of the spots of the ... Read more
Location: Bern, Switzerland
Duration: 4 hours (approx.)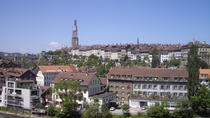 3 Reviews
Discover the beauty of the city during a gentle stroll through Bern. You will experience a tour which is tailored to your interests and needs.
Location: Bern, Switzerland
Duration: 2 hours (approx.)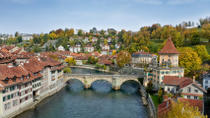 29 Reviews
Discover the delights of Bern and the surrounding countryside on a day trip from Zurich. Enjoy the rural charms of the lush, mountainous Swiss landscape. Stop ... Read more
Location: Zurich, Switzerland
Duration: 10 hours 30 minutes (approx.)