Ajanta and Ellora Caves Tours
The Ajanta and Ellora Caves are located in northern Maharashtra, around 400 kilometers from Mumbai. Carved into the hillside, there are 34 caves at Ellora dating from between the 6th and 11th centuries AD, and 29 caves at Ajanta dating back to between the 2nd century BC and 6th century AD.
The caves at Ajanta are all Buddhist, while the caves at Ellora are a mixture of Buddhist, Hindu and Jain. Perhaps the most astonishing thing about these cave structures is that they were created by hand, with only a hammer and chisel. While the Ajanta caves are adorned with art, including paintings and other sculptures, the Ellora caves are best-known for their fascinating architecture.
Sweeping views of the Ellora Caves can be had by climbing up the hill around the Kailasa temple. It's a good idea to bring a torch to the Ajanta caves as many of them are rather dark with poor lighting.
Practical Info
The closest train stations are in Aurangabad for the Ellora caves and Jalgaon for the Ajanta caves. It's possible to hire a car and drive between the two sites, with travel time between the two clocking in at around two hours. The entrance fee for international visitors is Rs 250 at both the Ajanta and Ellora Caves (children under 15 go free), and opening hours are 9am until sunset (usually around 5.30 pm). The Ajanta caves are closed on Mondays, while the Ellora caves are closed each Tuesday.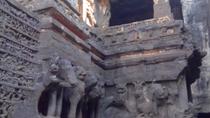 5 Reviews
This private tour in Aurangabad will take you to visit Ajanta's wondrous cave temples are cut the rocky sides into of a dramatic crescent-shaped gorge. The ... Read more
Location: Aurangabad, India
Duration: 8 hours (approx.)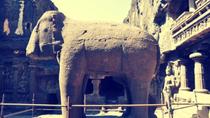 3 Reviews
This private tour will take you to visit Ajanta's wondrous cave temples, a World Heritage site, that cut the rocks into a dramatic crescent-shaped gorge. On ... Read more
Location: Aurangabad, India
Duration: 8 hours (approx.)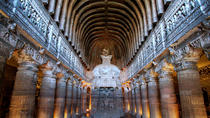 Explore the fascinating city of Aurangabad along with two UNESCO World Heritage Sites, the Ajanta Caves and the Ellora Caves, on this 3-day private tour. The ... Read more
Location: Aurangabad, India
Duration: 3 days (approx.)