Cacaluta Bay Tours
Cacaluta Bay was made famous in the movie "Y Tu Mama Tambien," where the mangroves, quiet shores and tropical climate of this heart-shaped bay served as a stunning backdrop to the dramatic blockbuster. Today, travelers frequent Cacaluta Bay to enjoy cooling breezes, and explore its rich biodiversity.
Two distinctly different beaches make up this scenic bay. The white sand and blue-green ocean views of Cacaluta Bay attract sun worshipers and water sports enthusiasts in search of strong waves and calm shores. While the smaller, pebbly Arroyo Beach at the bay's opposite end proves to be less welcoming, its impressive array of wildlife and lots of indigenous birds still make it well worth a visit.
Practical Info
Cacaluta Bay is located southwest of Santa Cruz Bay and most easily accessible by boat. A difficult dirt road connects
Cacaluta
to other nearby bays, but it's nearly impossible to navigate in rainy season.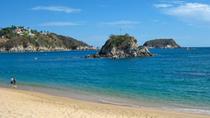 1 Review
Visit 5 beautiful bays of Huatulco, enjoy swimming in the sea and visit the virgin beaches, Órgano bay and Maguey bay, among others.
Location: Santa María Huatulco, Oaxaca
Duration: 7 hours (approx.)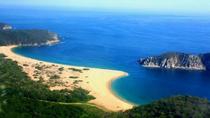 Visit 7 beautiful bays of Huatulco, enjoy swimming in the sea and visit beautiful beaches like La India and La Chachacual, among others.
Location: Santa María Huatulco, Oaxaca
Duration: 9 hours (approx.)