Miyajima Island Tours
UNESCO-listed Miyajima Island sits within the Seto Inland Sea just outside of Hiroshima. The gem of an island has earned a reputation as one of Japan's top tourist spots due in large part to the large red shrine gate, called torii in Japanese, that rises from the water just off the island's shores. The oft-photographed torii was built in 1875 as a ceremonial entrance to the island's Itsukushima Shrine and is one of the largest in the country. According to local legend, the shrine was built on the island because it was believed to be the abode of gods.
Apart from the main temple and torii, the island offers hiking, numerous smaller temples, an aquarium and a small history museum. Omote-Sando, the main street passing through town, is lined with souvenir shops and restaurants.
Practical Info
Many who visit Miyajima Island do so on day trips, so if you want the island to yourself (or if you want to photograph the torii when the light is at its best) consider staying the night in one of the island's several ryokan.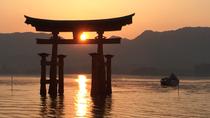 34 Reviews
See Hiroshima's historic sites on this 13-hour tour from Osaka. Ride a bullet train to Hiroshima and then a boat to Miyajima Island, where you'll see the ... Read more
Location: Osaka, Japan
Duration: 13 hours (approx.)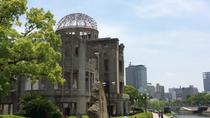 23 Reviews
Visit Hiroshima's most important historic sites on this 12-hour tour from Kyoto. After taking the bullet train from Kyoto Station, enjoy a boat ride to ... Read more
Location: Kyoto, Japan
Duration: 12 hours (approx.)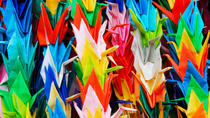 145 Reviews
Explore World Heritage sites in Hiroshima and Miyajima in one day! Miyajima is famous for its Itsukushima Jinja Shrine. Its red torii gate appears to be ... Read more
Location: Hiroshima, Japan
Duration: 7 hours (approx.)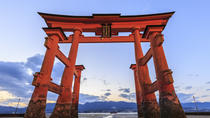 1 Review
Tour both sacred and solemn historical monuments on this 2-day guided tour from Osaka. After a boat ride to Miyajima's breathtaking Itsukushima Shrine, you'll ... Read more
Location: Osaka, Japan
Duration: 2 days (approx.)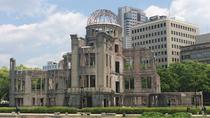 Visit top World Heritage sites in Miyajima, Hiroshima and Okayama on this 2-day guided from Kyoto. Marvel at the graceful red gate of Itsukushima Shrine, take ... Read more
Location: Kyoto, Japan
Duration: 2 days (approx.)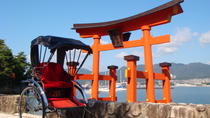 6 Reviews
Discover Miyajima Island, also known as 'Island of Gods,' and considered to be one of the most scenic spots in Japan, on this private guided rickshaw tour. ... Read more
Location: Hiroshima, Japan
Duration: Flexible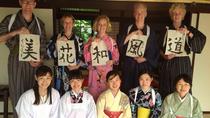 2 Reviews
Experience the spirit of Japanese, inherited over some hundred years, here in historical Miyajima. Zen temple "tokujuji" has peaceful time and ... Read more
Location: Hiroshima, Japan
Duration: 90 minutes (approx.)
1 Review
In Hiroshima, there are two world heritages. First one is Miyajima, and another one is Atomic bomb dome. In this tour, we will visit two world heritage sites ... Read more
Location: Hiroshima, Japan
Duration: 7 hours (approx.)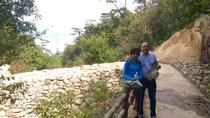 Miyajima is an island and a world cultural heritage site that has been a hotspot of faith since ancient times. On this walking tour, a local will guide you to ... Read more
Location: Hiroshima, Japan
Duration: 5 to 6 hrs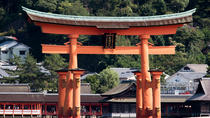 Experience and learn about the culture of Hiroshima on this private day tour with a driver. Enjoy the comfort of traveling by private vehicle as you take in ... Read more
Location: Hiroshima, Japan
Duration: 8 hours (approx.)