Swedish Theatre Tours
The Swedish Theatre, also known as the Svenska Teatern, is the oldest theater in Helsinki and offers performances exclusively in Swedish, the country's second official language. Going to a theatre performance in a foreign language can seem a bit daunting, but musicals such as the timeless feel-good show "Mamma Mia" or George Orwell's 1984 can be quite enjoyable even if you don't have the necessary language skills. The national theatre offers a wider repertoire that caters to everyone and genres range from drama to musicals and children's theatre. The atmosphere alone is worth the visit.
Established in 1827, the once small wooden theatre used to be a quick road stop for actors en route to Saint Petersburg, but it soon became so popular that a newer and bigger building had to be constructed. The theatre seen today was opened in 1863 and was built in the neoclassical style, although during a renovation in the early 20th century, the richly decorated façade was replaced with a more functional one. It offers room for up to 700 spectators, but also has smaller stages with fewer seats.
Practical Info
The Swedish Theater is located at Erottaja Square at the end of the Esplanadi Park. The closest stop is Erottaja, which is serviced by bus number 10 and tram numbers 3 and 6. The box office is open Monday to Friday from 10am to 6pm and on Saturdays from 12 to 6pm, but tickets can also be bought online.
48 Reviews
This 24-hour Hop-On Hop-Off sightseeing bus ticket allows you to see the best sights and highlights of Finnish capital Helsinki. Passengers can hop on and off ... Read more
Location: Helsinki, Finland
Duration: 1 day (approx.)
Combine two beautiful and comprehensive sightseeing experiences and enjoy the best of Helsinki on land and at sea. The package includes a 1.5-hour canal ... Read more
Location: Helsinki, Finland
Duration: 3 hours (approx.)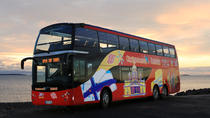 7 Reviews
See Helsinki, the lively Finnish capital, at your leisure on a City Sightseeing hop-on hop-off tour! With 15 tour stops along the route, passengers can hop-on ... Read more
Location: Helsinki, Finland
Duration: 24 to 48 hrs