There simply is no better way to gain an understanding of the intricate Chinese tea culture than to spend a day in a traditional Chinese tea village. Though tea shops are seemingly scattered around every street corner in the downtown center of Hangzhou, a lazy afternoon cup of tea in the city is no comparison to learning the history and heritage of the tea culture from the hills of a traditional village.

Though numerous tea villages sit just outside the outskirts of Hangzhou, one of the most accessible and popular villages for visitors is the Meijiawu Tea Village, where it's possible to follow the creation of the tea from bush to wok to piping hot cup. It's important for visitors to understand that the Longjing style of tea which is grown around Hangzhou is considered to be among the finest and most prized varieties of tea found anywhere in China. The residents of traditional tea villages work incessantly to uphold a cultural heritage and standard of quality which has been intrinsic to Chinese society for hundreds of years. In short, tea in Hangzhou is taken quite seriously.

Many tours to traditional tea villages feature a segment where it's possible to walk the dirt trails of the tea-covered hillsides and try your hand at harvesting the leaves directly from the bush. Although there are numerous different types of teas ranging from Longjing to Oolong, all of the tea varieties initially begin by being harvested from the same bush. What separates the different tea varieties is the way in which they are processed and prepared. This is another important component of tea culture that visitors are able to experience hands-on when visiting a traditional tea village. After harvesting a few leaves on the hillside, stand by or assist as a master tea roaster expertly roasts the leaves in a wok-style pan.

Visitors are also taught about the differences between leaves of varying quality and how to go about recognizing and selecting the best batches for brewing. Finally, after learning about the lengthy and laborious process of cultivating and preparing the tea, steaming glasses of Longjing tea are expertly poured in a precise fashion, which itself is regarded as a part of the cultural heritage. More than just a soothing cup in a scenic rural location, drinking tea in a traditional tea village is an all-encompassing journey into the craft of growing, brewing and appreciating Longjing tea.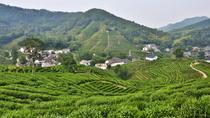 33 Reviews
This comprehensive full-day tour of Hangzhou delivers you by private vehicle to notable highlights: Take a boat ride around the UNESCO-listed West Lake, view ... Read more
Location: Hangzhou, China
Duration: Approximately 6-8 hours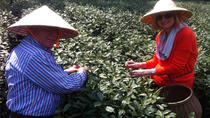 4 Reviews
Longjing tea is considered one of best China teas and Hangzhou is known for producing the best Longjing tea in China. The tea is grown on the Longjing Mountain ... Read more
Location: Hangzhou, China
Duration: 6 hours (approx.)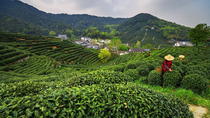 Let's bring a bamboo basket and wear a bamboo hat to kick off the tea-picking in Dragon Well Tea Plantation. Get tea knowledge, such as different leaves, tea ... Read more
Location: Hangzhou, China
Duration: 8 hours (approx.)
Let's bring a bamboo basket and wear a bamboo hat to kick off the tea-picking in Dragon Well Tea Plantation. Get tea knowledge, such as different leaves, tea ... Read more
Location: Hangzhou, China
Duration: 7 hours (approx.)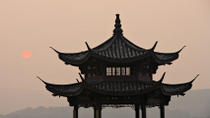 123 Reviews
Travel to Hangzhou, a city rich in culture, history and scenery, on a day trip from Shanghai. Accompanied by a knowledgeable guide, admire the architecture of ... Read more
Location: Shanghai, China
Duration: 10 hours (approx.)
Hangzhou is a perfect destination for Buddhists and tea lovers, as Hangzhou is the home of both Buddhism and Tea culture. Come with us, book this half day ... Read more
Location: Hangzhou, China
Duration: 4 hours (approx.)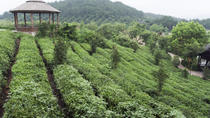 Discover what makes Hangzhou one of the most renowned cities in China on this multi-day tour of the city's most popular locales. With your own private guide to ... Read more
Location: Hangzhou, China
Duration: 4 days, 3 nights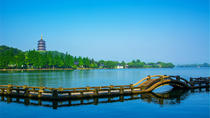 1 Review
Explore main highlights of fascinating city of Hangzhou including many attractions surrounding West Lake. You may also take a private boat ride in the west ... Read more
Location: Hangzhou, China
Duration: 7 hours (approx.)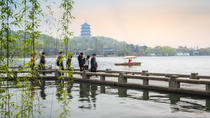 Visit Hangzhou's symbolic landscapes and learn more about Chinese tea culture all in one day! Take a boat on the romantic West Lake, experience tea culture at ... Read more
Location: Hangzhou, China
Duration: 7 hours (approx.)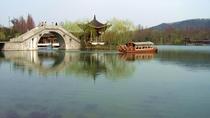 This tour takes you through Hangzhou's most popular sites: The bustling West Lake and the Linyin Temple, one of the largest Buddhist temples in China. It also ... Read more
Location: Hangzhou, China
Duration: 8 hours (approx.)