Lingyin Temple Tours
Also known as the "Temple of the Souls' Retreat," Lingyin Temple is one of the most famous Buddhist temples in all of China. The temple was founded in 328 by the Indian monk Hui Li and it is said that he sought out this spot for the solace that is found in this corner of the Wuling Mountains. His ashes are now buried in a stone pagoda at the temple and he also bestowed an adjacent limestone peak with the name of Feilai Feng, a term which loosely translates to "peak flown from afar." So similar was the mountain to those found back in his native India, Hui Li is said to have concluded that the only logical explanation was that the mountain had transported itself overnight from India to the outskirts of Hangzhou.

Modern day visitors to Lingyin Temple will enjoy ambling among the picturesque grottos and examining the hundreds of intricate Buddhist carvings. One such carving, the 82 foot (25 meter) tall, camphor wood carving of Sakyamuni is believed to be largest wood-carved Buddhist statue found anywhere in the world.

As you enter the temple through the "Hall of the Heavenly Kings" the first two things which become apparent are the intoxicating smell of incense and the ornately painted phoenixes and dragons which fly across the entryway ceiling. At the nearby "Hall of 500 Arhats" the floor is laid out in a Buddhist swastika pattern where 500 seated bronze arhats—Buddhist spiritual practitioners—gaze down onto the visitor from above. At the center of the hall a towering bronze structure which holds four bodhisattvas is reputed to be one of the tallest solid bronze structures found anywhere in the world.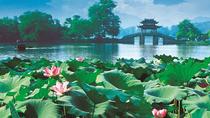 8 Reviews
Take in a full day of Hangzhou's elegant landscapes on this sightseeing tour with a local guide. Explore Lingyin Temple, a secluded Zen retreat near ... Read more
Location: Hangzhou, China
Duration: 8 hours (approx.)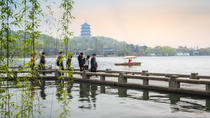 Visit Hangzhou's symbolic landscapes and learn more about Chinese tea culture all in one day! Take a boat on the romantic West Lake, experience tea culture at ... Read more
Location: Hangzhou, China
Duration: 7 hours (approx.)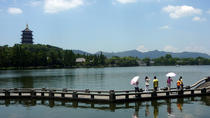 Venture onto this 9-hour day tour to Hangzhou from Shanghai with a private driver and guide. Take a breathtaking cruise on the West Lake in Hangzhou, ... Read more
Location: Shanghai, China
Duration: 9 hours (approx.)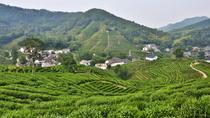 36 Reviews
This comprehensive full-day tour of Hangzhou delivers you by private vehicle to notable highlights: Take a boat ride around the UNESCO-listed West Lake, view ... Read more
Location: Hangzhou, China
Duration: 8 hours (approx.)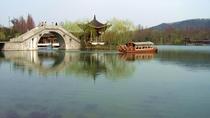 This tour takes you through Hangzhou's most popular sites: The bustling West Lake and the Linyin Temple, one of the largest Buddhist temples in China. It also ... Read more
Location: Hangzhou, China
Duration: 8 hours (approx.)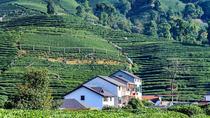 17 Reviews
Discover the famous Paradise City Hangzhou on a fully customized sightseeing day trip from Shanghai by bullet train. Accompanied by your private guide, stroll ... Read more
Location: Hangzhou, China
Duration: 10 hours (approx.)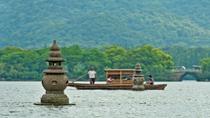 2 Reviews
Experience Hangzhou your way with this private transfer service around the city. Create your own sightseeing itinerary and enjoy the flexibility to explore at ... Read more
Location: Hangzhou, China
Duration: 8 hours (approx.)