No reviews, be the first!
Address:

South Jenny Lake Junction, Grand Teton National Park, Wyoming, USA
With waterfalls, canyons, wildlife, mountains, and shimmering alpine lakes, the Jenny Lake area is a highlight of visiting Grand Teton National Park. At an elevation of 6,800 feet, Jenny Lake sits at the base of the Tetons and is the park's second largest lake, and is best accessed by the Jenny Lake Trail that circles the alpine shoreline. It total, the Jenny Lake Trail runs 7.1 miles around the edge of the lake—though many visitors opt to only hike a part of the trail. The most popular variation of the Jenny Lake Trail is to start by riding a shuttle boat, which crosses the lake from the Visitor Center to a dock on the western shore. From here, a moderately steep, half-mile hike leads to thundering Hidden Falls, which continues farther up Cascade Canyon towards aptly-named Inspiration Point. While the trail continues up Cascade Canyon and connects with overnight trails, day hikers will most often turn back around and return via the southwestern shoreline.
Practical Info
Since the Jenny Lake Trail is the most popular hiking trail in Grand Teton National Park, crowds can be heavy—particularly in summer—so aim for an early start. The area is known for its wildlife activity, which can include both Grizzly and black bears, so be sure to make noise when out on the trail and leave no trace with your food. Riding the shuttle boat cuts off two miles of hiking, so Hidden Falls from the visitor center is a five-mile hike roundtrip—but only a short, one-mile hike if you ride across on the boat. In the peak of summer, shuttle boats run every 10-15 minutes from 7am-7pm, which changes from 10am-4pm during the shoulder months of May and September. Boat tickets are $15 roundtrip, $9 one-way, and can be purchased at the boat dock at South Jenny Lake. Access is limited to May-October when Teton Park Road is open.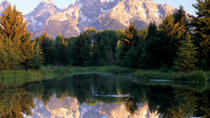 45 Reviews
Experience the tranquil landscapes of Grand Teton National Park on this easy day trip from Jackson. A must-see Wyoming treasure, this park offers one ... Read more
Location: Jackson Hole, Wyoming
Duration: 8 hours (approx.)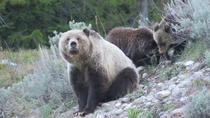 1 Review
Spend the day exploring Grand Teton National Park on this 8-hour excursion. Depart Jackson, Wyoming, for a guided tour of the park, visiting some of its top ... Read more
Location: Jackson, Wyoming
Duration: 8 hours (approx.)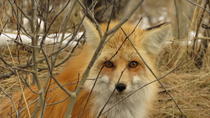 4 Reviews
Join us for an Amazing afternoon in Grand Teton National Park as we search for bears, elk, bison, moose, eagles, foxes & enjoy the beautiful views of the ... Read more
Location: Jackson, Wyoming
Duration: 5 hours (approx.)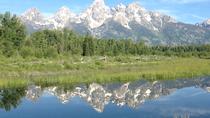 2 Reviews
Wildlife sightings are common in Grand Teton National Park, but you have to know where to look. This 5-hour guided tour covers plenty of ground including ... Read more
Location: Jackson, Wyoming
Duration: 5 hours (approx.)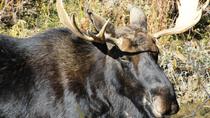 4 Reviews
Your Grand Teton National Park tours will begin from Jackson Hole and lead you into the beautiful wilderness of Grand Teton National Park. Keep a lookout for ... Read more
Location: Jackson, Wyoming
Duration: 8 hours (approx.)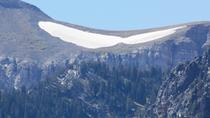 Your Grand Teton National Park tours begin in West Yellowstone, Montana, and will take you to Jackson Lake, Jenney Lake, Teton Village (Jackson Hole), Mormon ... Read more
Location: West Yellowstone, Montana
Duration: 12 hours (approx.)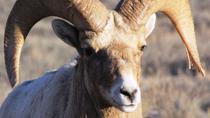 Your Grand Teton National Park tour begins in Cody, Wyoming, and will take you to Jackson Lake, Jenney Lake, Teton Village (Jackson Hole), Mormon Row, Glacial ... Read more
Location: Cody, Wyoming
Duration: 12 hours (approx.)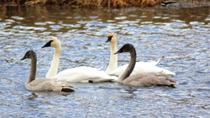 Your Grand Teton National Park tour will start from Cooke City, Montana, taking you past Jackson Lake, Jenney Lake, Teton Village (Jackson Hole), Mormon Row, ... Read more
Location: Cooke City-Silver Gate, Montana
Duration: 12 hours (approx.)