Gothenburg RECOMMENDATIONS See all
Gothenburg Viking History
By Viator, June 2018
No reviews, be the first!
From their iconic horned helmets to their blood-thirsty plundering and pillaging, the Vikings are surely among Europe's most notorious warriors, and you can't enter a souvenir store in Sweden without being bombarded with Viking costumes and memorabilia. Like most Swedish cities, the Gothenburg area was inhabited by the Norse seafarers from the late 8th century until the mid-11th century and Viking legends abound along the coastal region and its many islands.
While few traces of Gothenburg's Viking past remain, the city is home to one star attraction – the impressively preserved remains of the Äskekärr longboat, which takes prize place in the Gothenburg City Museum and is famous for its unique runic inscriptions. Discovered on the Ale Viking Farmstead, 30 kilometers out of Gothenburg, the Äskekärr is the only Viking vessel on display in Sweden and dates back to the 930s.
Viking enthusiasts can also explore the reconstructed Viking village at the nearby Ale Viking Farmstead or take a day trip to the Hornebore Ting Viking market in Hamburgssund, an hour and a half north of Gothenburg.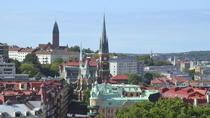 12 Reviews
See Gothenburg's top sights with this hop-on hop-off bus tour! Travel by an open-top double-decker bus on this comprehensive sightseeing experience that covers ... Read more
Location: Gothenburg, Sweden
Duration: 1 day (approx.)
1 Review
For those looking to experience Gothenburg like the locals, hop on two wheels and join one of the best bike tours Gothenburg has to offer
Location: Gothenburg, Sweden
Duration: 3 hours (approx.)