Piazza de Ferrari Tours
Most Italian cities have so many busy piazzas it's hard to tell which one is the main square. In Genoa, the Piazza de Ferrari is that main square – and once you're there, it's easy to understand why.
The expansive Piazza de Ferrari sits right in the city center, between the historic district and the more modern part of downtown, and many important buildings face the piazza. Around the square you'll find the Palazzo Ducale (although the main entrance is on another piazza around the corner), the gorgeous former stock exchange building, and the Teatro Carlo Felice - Genoa's opera house.
The Piazza de Ferrari is named for Raffaele de Ferrari, a 19th century Italian nobleman who once lived in a palazzo near the square. His wife was the one who bequeathed the Palazzao Rosso and Palazzo Bianco – once private homes owned by her family – to the city of Genoa upon her death to be used as public museums.
At the center of the Piazza de Ferrari is a large circular fountain, which features prominently in many photographs of iconic Genoa views. The square is a popular meeting point for locals, and a welcome wide-open pedestrian zone in a city center of busy streets.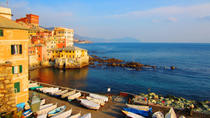 106 Reviews
See the best of the Italian Riviera on your Genoa and Portofino full-day trip from Milan! After a guided walking tour of Genoa, explore the best bits of these ... Read more
Location: Milan, Italy
Duration: 12 hours (approx.)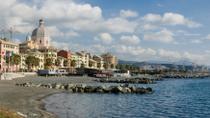 46 Reviews
Explore the birthplace of Christopher Columbus, savor the excellent cuisine and see the beautiful sights with this 48-hour ticket aboard an open-top, ... Read more
Location: Genoa, Italy
Duration: 2 days (approx.)