8 Reviews
Address:

Avenida Tancredo Neves 6702, Foz de Iguacu, Brazil

Hours:

Open daily 8am - 4pm

Admission:

US$15
Iguacu Falls is not the only natural wonder in this amazing neighborhood. Just 10km (6mi) from Foz do Iguacu, massive Itaipu Dam was, until recently, the world's largest manmade structure (since eclipsed by China's Three Gorges Dam) and is still the world's most productive hydroelectric facility.

The dam is considered one of the World's Seven Modern Wonders, clocking in at 7.2km (4.5mi) long, 65 stories high, with a maximum flow more than 40 times that of Iguacu Falls on a good day.

In fact, Itaipu marks the spot where an almost equally epic cascade was once the centerpiece of Guaira Falls National Park. The "Seven Falls of Guaira" (actually 18 cascades on the Parana River, gushing twice as much water as Niagara Falls) were drowned in 1982 when the dam was under construction.

The national park was dissolved, the cliffs dynamited underwater to ensure safer navigation on the new reservoir, and today Itaipu produces more than 20% of Brazil's electricity.
Practical Info
In addition to the 90-minute, US$15 Panoramic Tour, which can include add-ons such as nature hikes or visits to the onsite museum, you can book other options in advance, such as the Special Tour (2.5hrs, US$29) that visits the interior of the dam. A light show spectacular is offered twice weekly. Sandals, high heels, miniskirts, and shorts are forbidden.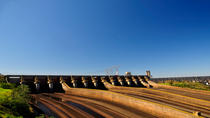 12 Reviews
Combine two great sightseeing excursions on this cross-border day trip from Puerto Iguazu to the Brazilian side of Iguassu Falls and the Itaipu Dam. First, ... Read more
Location: Puerto Iguazú, Argentina
Duration: 9 hours (approx.)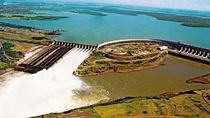 14 Reviews
While visiting Iguassu Falls National Park, take the chance to explore the Itaipu Dam, the largest operational hydroelectric power plant in the world. Visit ... Read more
Location: Foz do Iguaçu, Brazil
Duration: 4 hours (approx.)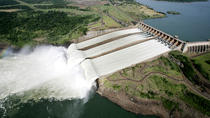 3 Reviews
Enjoy a visit to the Itaipu Hydroelectric Dam, responsible for the production of 95% of the electricity consumed in Paraguay, and for 24% of all Brazilian ... Read more
Location: Foz do Iguaçu, Brazil
Duration: 6 hours (approx.)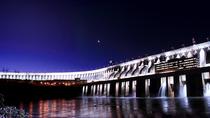 1 Review
Get dazzled by the energy coming out of the huge turbines in the dam lighting, illuminated by 747 spotlights and 112 fixtures. A soundtrack created specially ... Read more
Location: Foz do Iguaçu, Brazil
Duration: 3 hours (approx.)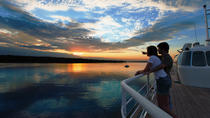 Sail around the Itaipu lake on this 2-hour catamaran cruise. Take in views of the impressive, 5-mile (8km) long Itaipu Dam and hydro-electric power plant, as ... Read more
Location: Foz do Iguaçu, Brazil
Duration: 2 hours (approx.)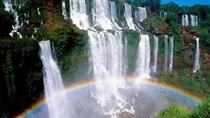 2 Reviews
Visit the Iguazu Falls, the largest waterfalls system in the world, in this unique half-day tour. You will tour the Brazilian Side of the Falls which contains ... Read more
Location: Puerto Iguazú, Argentina
Duration: 9 hours (approx.)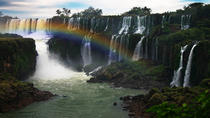 1 Review
If you only plan on spending one night in Foz do Iguaçu, this is the tour for you! Book this overnight Iguassu Falls tour and see the Brazilian side of ... Read more
Location: Foz do Iguaçu, Brazil
Duration: 2 days (approx.)