No reviews, be the first!
Address:

Getulio Vargas Square, Santa Cruz do Sul, Brazil

Hours:

Open daily; Mass Saturday 5pm, Sunday 7am, 9am, 10:15am, and 7pm
This elegant example of neo-Gothic architecture, easily Brazil's finest, might seem more at home in Medieval France than the rainforests of the New World. But the graceful symphony of peaked arches and delicately rendered 82m (169ft) towers, built between 1928 and 1932, is right here in Santa Cruz do Sul.

Sao Joao Batista, which overlooks the pretty parks and fountains of popular Getúlio Vargas Square, offers a pale pastel interpretation of classic Gothic aesthetics; the interior murals and lovely stained glass seem to invite light and cheer into the imposing structure. It is considered one of the most beautiful cathedrals in South America.

The cathedral is only one of this mid-sized city's attractions. The Autodromo Internacional de Santa Cruz do Sul hosts popular racing events year-round. The crowds multiply in late September, when Santa Cruz, founded in the 1840s by German settlers, begins its outrageous and world-famous Octoberfest celebration.



Photo courtesy of Klaus with a K via Wikimedia Commons
Practical Info
While it's possible to visit Catedral Sao Joao Batista on a daytrip from Foz do Iguacu on a tour with speedy private transport, it's a solid five-hour haul on public buses. Consider spending the night, or continuing on to the city of Porto Alegre, a festive hub for some of southern Brazil's best beaches.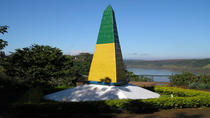 8 Reviews
Join a guided sightseeing tour of downtown Foz do Iguaçu and travel to the Landmark of the Three Frontiers, the meeting point of the three countries in ... Read more
Location: Foz do Iguaçu, Brazil
Duration: 3 hours (approx.)