No reviews, be the first!
Address:

4175 Medulla Rd, Lakehead, Florida, USA

Admission:

Adults: $12
Florida Air Museum Tours
At the entrance to the SUN-N-FUN Fly-In Campus outside the town of Lakeland, is an unexpected yet endlessly fascinating shrine to aviation history. Here at the Florida Air Museum, even travelers who aren't into airplanes might be surprised when a 20-minute visit turns into a three-hour stay. The collection of historic aircraft spans from the Wright Brothers up through today, and everything from ultra-lights to classic warbirds are on display in the hangars. Children will love the flight simulators and dozens of colorful planes, while enthusiasts can appreciate 100 years of advances in aviation. For a look at the work involved in restoring classic aircraft, the Buehler Restoration Skills Center is a volunteer-run, aviation workshop that actively helps restore the aircraft for display or return to flight. Other exhibits include memorabilia devoted to Howard Hughes, as well as a modern display on NASA and exploring galactic frontiers. Add in artifacts from Charles Lindbergh and the flights of Amelia Earhart, and the Florida Air Museum is a Lakeland stop the entire family can enjoy.
Practical Info
The Florida Museum is open Tuesday-Saturday from 10am-4pm, and Sunday from 12-4pm. Admission is $12 for adults, $8 for students, and $10 for 55+. Also, while not generally open to the public, visitors with an interest in aviation history can contact the librarian about special admission to the museum's aviation archives.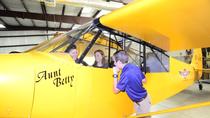 Visit the Florida Air Museum, located on the Sun 'n Fun campus in Lakeland, Florida. Learn about Florida's contributions to the field of air and space through ... Read more
Location: Lakeland, Florida
Duration: Flexible