Nestled in the UNESCO World Heritage listed Fiordland National Park, Milford Sound is described as the 'Eighth Natural Wonder of the World'. Milford Sound is actually a fiord – a drowned glacial valley, a romantic blend of stillness and dramatic peaks.
The beautiful scenery includes the incredible Mitre Peak, one of the highest mountains in the world to rise directly from the ocean floor, as well as stunning waterfalls that crash down into the serene waters. Dolphins, seals and penguins can be seen in their natural environment, as you discover the magic of this deep fiord.
Cruising Milford Sound
Towering peaks and cascading waterfalls - enjoy a spectacular Milford Sound Sightseeing Cruise to truly appreciate the splendor of this area. Cruise along the Southern side of Milford Sound to the Tasman Sea and return up the Northern side past Mitre Peak, Bowen Falls, Stirling Falls and Seal Point.
An overnight cruise amidst magnificent Milford Sound is a once in a lifetime experience. The Milford Mariner cruises the length of the fiord to the Tasman Sea before anchoring for the night in Harrison Cove. Try kayaking and exploring the shoreline on the tender craft, with an experienced nature guide on board.
Doubtful Sound is an unspoiled wilderness of many moods, one minute clear, blue and sun drenched, the next mysterious and mist shrouded. A wild place of dense rainforest, rugged peaks, cascading waterfalls and deep still waters quiet, serene and green.
Your adventure begins on the crystal clear waters of Lake Manapouri, then over Wilmot Pass viewing some of Fiordland's densest rainforest and colorful alpine moss gardens, before the dramatic scenery of Doubtful Sound. Look out for wildlife as bottlenose dolphins come alongside the vessel, fur seals bask on the rocks and rare penguins can be observed.
Whatever the mood, the real pleasure comes from taking in the subtleties – the forest covered mountainsides, the different colors on the rocks where various water lines have left their mark, the feeling of solitude...these are the things that make people rave about Milford Sound and come back time and time again.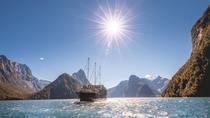 9 Reviews
With this Te Anau Super Saver, you'll be amazed by the natural wonders of New Zealand. On your first day, cruise Milford Sound and admire the dramatic scenery ... Read more
Location: Te Anau, New Zealand
Duration: 2 days (approx.)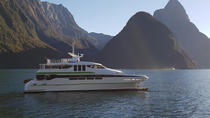 62 Reviews
Be mesmerized by the World Heritage listed Fiordland National Park and Milford Sound on this full-day tour from Te Anau.
Location: Te Anau, New Zealand
Duration: 7 hours 30 minutes (approx.)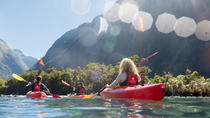 47 Reviews
Experience the majesty of Milford Sound on a boat cruise that stops at the Milford Sound Discovery Center and Underwater Observatory. The smaller boat travels ... Read more
Location: Milford Sound, New Zealand
Duration: Flexible
20 Reviews
An overnight cruise amidst spectacular Milford Sound, is a once in a lifetime experience. While on board the Milford Mariner you will cruise the full length ... Read more
Location: Queenstown, New Zealand
Duration: 2 days (approx.)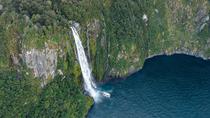 40 Reviews
Immerse yourself in the breathtaking beauty of Milford Sound during a boat cruise led by a naturalist guide. On board a smaller-sized vessel than typical ... Read more
Location: Milford Sound, New Zealand
Duration: 2 hours 15 minutes (approx.)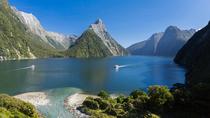 101 Reviews
Towering peaks and cascading waterfalls - this has to be the spectacular Milford Sound. Described as the 'Eighth Natural Wonder of the World', this cruise will ... Read more
Location: Milford Sound, New Zealand
Duration: 2 hours (approx.)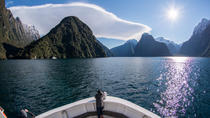 285 Reviews
Milford Sound is arguably the most scenic destination in New Zealand, a must-see for any traveler. This is a small group tour for travelers seeking a ... Read more
Location: Queenstown, New Zealand
Duration: 13 hours (approx.)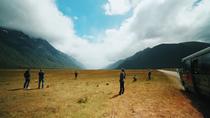 28 Reviews
Milford Sound is arguably the most scenic destination in New Zealand. Located in 3 million acres of the Fiordland National Park, Milford Sound is a must-see ... Read more
Location: Te Anau, New Zealand
Duration: 9 hours (approx.)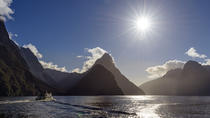 214 Reviews
Discover Milford Sound on a full-day trip from Queenstown. You'll travel through beautiful Fiordland in a luxury coach with panoramic windows and take an ... Read more
Location: Queenstown, New Zealand
Duration: 12 hours 30 minutes (approx.)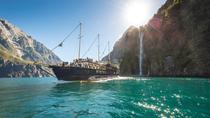 94 Reviews
An overnight cruise amidst spectacular Milford Sound, is a once in a lifetime experience. While on board the Milford Mariner you will cruise the full length ... Read more
Location: Milford Sound, New Zealand
Duration: 2 days (approx.)